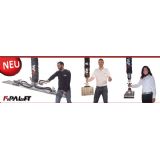 Tube lifters FIPALIFT 4/27/2016
The FIPALIFT is a high-quality and sturdy tube lifter in the three available versions FIPALIFT Expert, Smart and Basic Tube lifters are vacuum-based lifters ...

Vacuum grippers 70x70 4/27/2016
Use in virtually all automated handling processes: Palletising, de-palletising, separating, sorting Integrated vacuum generation TL Design: with flow ...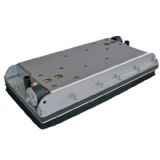 Foam grippers with closing valves 4/27/2016
Strong holding force, independent of gripper coverage Automated handling of individual products or product layers without gripper change Suitable ...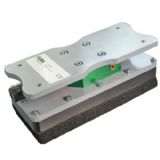 Foam gripper with reduced leackage 4/27/2016
Holding force increases with product coverage Economic gripper solutions for dust-free handling processes Automated handling of individual products ...

FIPA flat vacuum cups 4/27/2016
The FIPA flat vacuum cups offer lateral stability owing to their shape during the suction process and positional accuracy when depositing the material. ...

Vacuum units 5/8/2012
Portable vacuum units with condensate discharge for liquids Portable system for vacuum supply for i.e. suction cups or fixing tools Specially developed ...

Silencers for vacuum pumps 5/8/2012
Additional silencer for side channel blowers Silencer with direct opening Suitable for "processing" of the exhaust air: e.g. ventilation or heating ...

Vacuum tanks 5/8/2012
Vacuum tanks 5 - 60 liters As storage for compressed air, vacuum and non-aggressive liquids Energy saving assembly of compressed air and vacuum For ...

Filters for wet areas 5/8/2012
Filter / Condensate trap Precipitation of condensable vapors Efficient and reliable separation of water droplets out of vacuum systems Easy installation ...

Oil-lubricated vacuum pumps 5/8/2012
Rotary vane vacuum pumps - oil-lubricated Very high final vacuum level of 99.9 % Drives with multi-range voltages, horizontal mounting position Please ...