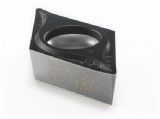 Walter launches new indexable inserts with positive geometry 4/15/2014
​Walter AG expands its Tiger•tec Silver® range as of March 2014 with three efficient, positive, steel cutting geometries. The indexable inserts for steel machining are available in the proven WPP10S, WPP20S and WPP30S Tiger•tec ...

Walter AG re-engineers Walter Prototyp blind hole tap 9/21/2012
Multitalented with that certain something extra. Its all in the name: The new Walter Prototyp Paradur® Eco Plus blind hole tap from Walter offers the much sought after extra tool life and process reliability. ...

Noble knights - Walter AG launches ground-breaking mill concept 9/21/2012
Mills and knights have something in common. A mill carries equipment, and can turn skilfully with "blades". Walter took the motif of the noble knight and developed a new generation of mills which are hard to resist thanks to their "powerful, precise, ...
---
First Previous Next End Page 1 of 1, Go to page