TENDO Hydraulic Expansion Toolholder
For decades, TENDO has been well known for high-precision shank tool clamping.

TENDO - thanks to continuous development, the cutting-edge clamping technology meets the continuously growing requirements of demanding and universal precision machining.

The broad product range offers a suitable solution for nearly every case of application.

TENDO will convince you:

Maximum true running and repeat accuracy < 0.003 mm
- Increases the tool's service life
Excellent vibration damping
- Improved surface quality
- Prevents chipping of tool cutting edge
Versatile clamping range thanks to intermediate sleeves
Accurate length presetting axially or radially
Suitable for application with reduced amount lubrication (MMS, MQL)
Easy handling - without peripheral equipment
- Tools are changed within seconds
Precision-balanced as standard G 2.5 / 25000 1/min.
(Applies for TENDO Hydraulic Expansion Toolholders from stock on items manufactured after 06/30/2007.)
Related Products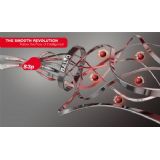 The Smooth Revolution: BALIQ™
Oerlikon Balzers Coating AG
A technological milestone has been achieved: BALIQ™ - the new coating generation by Oerlikon Balzers. BALIQTM is the new coating generation by ...

Walter GPS
Walter AG
Walter GPS is the next generation of the TEC-CCS tool selection system. Based on the experience gained, Walter GPS has been newly developed and equipped ...

Axial rolling head RC4014
LMT GmbH & Co. KG
AXIAL ROLLING HEAD RC4014: FILLING A GAP Fast processes, high-precision threads, perfect surfaces - the advantages of thread-forming with LMT Fette ...

Heliset - Manual tool measurement and pre-adjustment
Walter Maschinenbau GmbH
The Heliset Uno enables quick and precise external pre-adjustment and control measurements of tools and grinding wheels directly in production. The image ...