Hinges
Hinges from Hettich, the heart of good doors. Unbeatable solutions for any range of furniture Innovative, reliable, untiring performers. Top quality, smart mounting and adjustment techniques. Added convenience from push to open or with Sensys, the hinge with integrated soft-closing feature for cushioned closure.
Related Products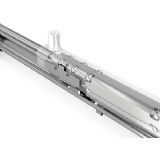 Hettich''s Perfect Stop holding function for ovens
Hettich Holding GmbH & Co. oHG
From now on, Quadro oven runners can be provided with the new "Perfect Stop" holding function. This makes it even safer to handle hot food pulled out ...