Brandt Ambition 1600 Series - Edgebanders
In the standard version, the machine is equipped with a precision gluing unit, a tilt-able end trimming unit, a multi-functional top/bottom trimming unit and a contour-trimming unit. The radius scraper and a buffing unit guarantee a perfect finish. The powerful motors on all of the units provide the unrestricted power needed to process a broad spectrum of different parts. To offer the perfect solution every time, there is a joint trimming unit, a tilt-able grooving unit as well as a glue joint scraper available. With the optional Quickmelt gluing unit, plus the standard workpiece gap optimization package for more effective production, and also the available separation and detergent agents, this range is optimally equipped for all requirements.
Related Products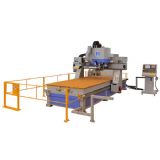 Heian EG-231 gantry router
Stiles Machinery Inc.
Heian''s EG-231 gantry router is the right choice for those looking for a nested-based manufacturing machine that is value-priced, but still offers the ...

HL-HUL - Feeder
MAKOR s.r.l.
In-line in- and out-feeder pitch set for pieces 300 mm. wide The HL in-feeder and the HUL out-feeder are designed to guarantee the in-feed and out-feed ...

LC - Sanding Machine
MAKOR s.r.l.
Automatic sanding machines for profiles up to 200 mm. wide The LC series is equipped with an 80 mm. belt-system conveyor, particularly suitable to ...

Chipboard Edge Sealing
MAKOR s.r.l.
Makor is proud to present its latest innovation related to panel processing technology. Patented by MAKOR., a special application head for GEMINI has ...

RoboSpray Top-Quality Finishing
MAKOR s.r.l.
To match a more and more demanding market dealing with small volumes and just in time production, MAKOR has realized an innovative and technological advanced ...