The FPT Industrial N67 Stage V
In partnership with its sister brand Case IH, FPT Industrial is powering the Optum 300 CVXDrive tractor with its N67 Stage V engine. With the new emission regulation for non-road machinery being effective from 2019, the Case IH model is Stage V-compliant thanks to FPT Industrial''s engine knowledge and preparation.The N67 Stage V engine ensures fuel efficiency and low particulate emissions and its VGT Turbocharger contributes to its high power and quick load response. The 6.7-liter, 6-cylinder engine delivers maximum power of 230 kW @ 1800 rpm and maximum torque of 1282 Nm @ 1400 rpm.N67 Stage V for CASE IH Optum 300 CVXDrive SpecificationsArchitecture: In-Line 6-cylinder engineInjection System: Common rail (up to 1,600 bar)Air Handling: eVGTValves per cylinder (number): 4Displacement (l): 6.7Bore x Stroke (mm): 104 x 132Rated Power: 221kW @ 2100 rpmMax Power: 230kW @ 1800 rpmMax Torque: 1282Nm @ 1400 rpmOil Service Interval (h): 750EGR: NOATS: HI-eSCR2
Related Products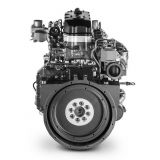 The FPT Industrial N45 Stage V engine
FPT Industrial - Powertrains for industrial vehicles
The N45 is one of the highlights of the NEF family, which has been a mark of FPT Industrial''s technological excellence since 2001. The 4.5-liter engine ...

Medium speed engines
MAN Diesel & Turbo SE
Medium speed engines are a major force in cargo and passenger ship propulsion and hence play a valuable role in facilitating world trade. Four-stroke ...

HON X/P HONING MACHINES - For large 4-stroke and all 2-stroke engines
Chris-Marine AB
Used for engines, cylinder diameter 320 - 1000 mm. For large-bore liners in workshops when an extremely powerful honing machine is required. Driving ...

VRL - Seat recess and valve seat lathe
Chris-Marine AB
Electrically driven for machining of seat recesses in cylinder heads for overdimensioned valve seats. Working range 60 - 200 mm diameter. Capable of ...

BSP - Valve spindle grinding machine
Chris-Marine AB
BSP - Valve spindle grinding machine For grinding of valve spindles on high and medium speed diesel engines. Electrically driven. The touch panel offers ...