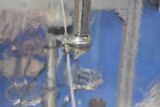 Trends, ideas and know-how for consistently clean parts 9/11/2019
Coping effectively and efficiently with new and different challenges in parts cleaning is of ever more mission-critical importance for all manufacturers aiming to stay competitive. parts2clean puts them in touch with all the latest trends, solutions ...
Successful launch of BIOTECHNICA/LABVOLUTION dual exhibition 10/11/2015
Hannover, Germany. The producers of the BIOTECHNICA and LABVOLUTION dual exhibition drew positive conclusions at the close of the event on Thursday, 8 October. Some 10,000 trade visitors traveled to Hannover to take advantage of the business opportunities ...
LIGNA 2017 to come up with New Layout 10/2/2015
LIGNA, the world's leading tradeshow for wood processing and woodworking machinery, plant and tools has witnessed a very successful edition with featuring 1,552 exhibitors - including 56 percent from outside Germany. "Exhibitor feedback points to ...
LIGNA 2015 to feature new Wood Industry Summit 9/9/2014
LIGNA one of the leading trade fairs for the forestry and wood industries to be held from May 11 to 15, 2015. It will be taking its commitment as the international shop window for the wood industry to the next level with an exciting new offering: the ...
---
First Previous Next End Page 1 of 1, Go to page