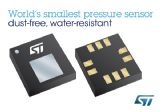 STMicroelectronics Steps Up the Pressure: Delivers World's Smallest Pressure Sensor, Dust-Free and Water-Resistant by Design 11/21/2014
At 0.76mm thin, pressure sensor is also the only one in a fully molded package, enabling higher-accuracy measurements ...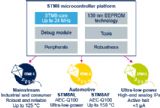 STMicroelectronics Ships Milestone STM8 Microcontroller 5/23/2014
Fast ramp to one billionth device, demonstrates market focus and continuing commitment to 8-bit market ...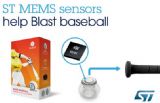 Blast Motion Launches First Product Blast Baseball and Debuts New Website 5/8/2014
Blast's Precision Motion Sensor technology brings baseball and softball players new ways to track, share and compare their game ...

STMicroelectronics Reveals Silicon Carbide Solutions to Solar Challenges at Solar Power International 2012 9/20/2012
Emerging portfolio of power devices leverages inherent efficiency advantages to increase energy yield from solar generation ...

ST's MEMS Module Provides Six Degrees of Freedom in Advanced Motion-Sensing Applications 8/1/2011
Geneva, July 29, 2011 - STMicroelectronics (NYSE: STM), a global semiconductor leader serving customers across the spectrum of electronics applications and the leading supplier of MEMS (Micro-Electro-Mechanical Systems) for consumer and portable applications,1 ...

STMicroelectronics Unveils World's Smallest Real-Time Clock with Embedded Crystal, Saving Space and Optimizing Battery Life in Portable Electronics 8/1/2011
Combined real-time clock/crystal in smallest industry-standard outline, facilitating ease-of-design for portable applications. ...
---
First Previous Next End Page 1 of 1, Go to page