Guided Wave Radar Level Sensor with Hazloc Approvals and Modbus RTU 8/31/2016
(Lincoln, Nebraska-August 30, 2016) BinMaster's GWR-2000 guided microwave level transmitter provides continuous level measurement in vessels up to 100 feet tall with accuracy of 0.08 inches (2mm). It utilizes time domain reflectometry (TDR) to continuously ...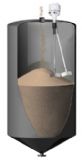 Mercury-Free Tilt Switch with Hazardous Location Approvals 6/15/2016
(Lincoln, Nebraska-June 14, 2016) The BM-TSM-EX mercury-free tilt switch features C/US Class II, Division I Groups E, F and G and ATEX Zone 21 hazardous location approvals. The innovative, patented tilt switch was designed for affordable, high level ...
BinMaster Heavy Duty Capacitance Probe for High Temperatures 10/23/2015
Lincoln, Nebraska-October 21, 2015 - The new BinMaster HD probe is a heavy duty, stainless steel probe that can be attached to either the PROCAP I or PROCAP II capacitance probes. ...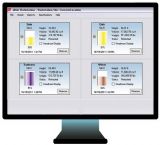 BinMaster Announces eBob Inventory Monitoring Software for Solids and Liquid Level Sensors 9/25/2015
(Lincoln, Nebraska-September 17, 2015) BinMaster announces new eBob software that is compatible with both solid and liquid level sensors used on bins, tanks and silos. The new program works with a wide variety of sensors including the 3DLeveScanner, ...
---
First Previous Next End Page 1 of 1, Go to page