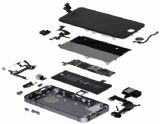 iPhone SE is Three iPhone Generations Rolled into One, IHS Teardown Reveals 4/5/2016
ENGLEWOOD, Colo.--(BUSINESS WIRE)--A preliminary estimate by IHS Inc. (NYSE: IHS) and its Teardown and Cost Benchmarking Service shows that the iPhone SE smartphone costs about $160 to build. The US version of an entry-level iPhone SE with 16 gigabytes ...
Inventory Adjustments Causing TV and IT Display Shipments to Decline in Q1 2016, IHS Says 3/2/2016
Unit shipment declines in 2015 will continue in the first quarter of this year, due to slowing demand and excess inventory ...
Wearable Device Display Unit Shipments to Hit 39 Million by 2016, IHS Says 2/25/2016
ENGLEWOOD, Colo. (February 25, 2016) - The growing popularity of smartwatches, fitness monitors and other wearable applications is driving up shipments of the displays used in these devices, from 34 million units in 2015 to 39 million in 2016. Nearly ...
Seeing the Future in Flexible AMOLED Displays, Manufacturers Expand Production Capacity in 2016, IHS Says 2/17/2016
ENGLEWOOD, Colo. (February 17, 2016) - With the growing popularity of the Samsung Galaxy Edge series and the Apple Watch, display manufacturers are expanding their production capacity of flexible active-matrix organic light-emitting diode (AMOLED) displays. ...
Oversupply to Overshadow LCD Market in 2016, IHS Says 1/28/2016
TOKYO, Japan (January 26, 2016) - The ongoing issue of liquid crystal display (LCD) oversupply -- exacerbated by China's aggressive investment in production capacity as well as high fab utilization -- will continue well into 2016. The supply of large-area ...
IHS Confirmed as Information and Insight Partner at SMAhome 2016 1/28/2016
IHS Technology analysts to provide guidance on opportunities associated with residential security and smart home solutions ...
China to Dominate Flat Panel Display Manufacturing by 2018, IHS Says 11/6/2015
Despite falling prices and profit margins, BOE and other Chinese panel manufacturers continue ambitious expansion plans ...
The Internet of Everything needs a "fabric" 5/28/2015
Sam Lucero, Senior Principal Analyst, M2M and the Internet of Things ...
---
First Previous Next End Page 1 of 1, Go to page