GENIE® S™-Trax Boom Lifts Take Heavy Ground Lightly in the Netherlands 12/17/2014
Grantham, UK (10th December, 2014) - Following the delivery of two self-propelled telescopic Genie® S™-65 TraX boom lifts earlier this year, authorized Genie distributor HDW recently provided Barnfeld-based Van den Brink Platform and Crane ...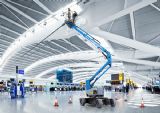 New Articulating Genie® Z™-33/18 Boom Lift Makes Debut At APEX 7/16/2014
GRANTHAM, UK (24th June 2014) - Genie made a significant addition to its product line-up today by introducing its first entirely new compact, lightweight electric Z-boom lift at the APEX tradeshow in The Netherlands. Designed for both indoor and outdoor ...
Genie Introduces Telematics Ready Connector For Flexible Plug and Play Capability 2/16/2014
REDMOND, WA (Feb 10, 2014) - In response to rental customers' needs, Genie is introducing the industry's first telematics-ready connector to enable telematics devices to be plugged into Genie® boom lifts. The telematics-ready connector is now available ...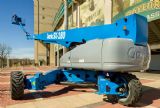 Genie Unveils World's Tallest Self-Propelled Boom Lift at Bauma 2013 4/17/2013
MUNICH, GERMANY (April 15, 2013) - Breaking through all industry records at 180 ft (54.9 m), the revolutionary new Genie® SX-180 self-propelled telescopic boom lift was introduced today at the bauma 2013 tradeshow in Munich, Germany. The largest ...
---
First Previous Next End Page 1 of 1, Go to page