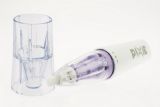 Quadrant CMS collaborates with Oystershell to create cold-temperature wart remover 12/15/2016
Tielt, Belgium - December 13, 2016 - A disposable liquefied-gas dispensing pen for removing warts is coming to market after an intense collaborative development process involving inventor Oystershell Laboratories and manufacturing partner Quadrant CMS. ...

QUADRANT INTRODUCES STEP-CHANGE PTFE FLUOROSINT® 135 FOR EXTREME CONDITIONS 12/6/2012
Quadrant Engineering Plastic Products (EPP) delivers a step-change in durability and longevity to seals, bearings and washers used in fluid processing with the launch of advanced Polytetrafluoroethylene (PTFE) Fluorosint® 135. The new material grade's ...

Quadrant Introduces Breakthrough Engineering Plastic Material at SEMICON West 2012 7/26/2012
Quadrant launches Semitron® MPR1000 at SEMICON West 2012, the flagship annual event for the global microelectronics industry, held from July 10-12, 2012 in San Francisco, California. This new material delivers a competitive advantage to engineers ...

Quadrant's new TIVAR® HPV gives conveying systems a performance, cost and safety boost 7/26/2012
Quadrant launches new TIVAR® polyethylene (PE) bearing grade TIVAR HPV to support improvements to the productivity and safety of conveying systems and a reduction in maintenance. ...
Quadrant Engineering Plastic Products Launches Nylatron® WP for Wear Pad Grade Applications 2/28/2012
Reading, Pa., February 21, 2012 - Quadrant Engineering Plastic Products (EPP) is launching Nylatron® WP, its newest innovation for cost-effective, high-performance material developed specifically for wear pad grade applications. ...

Quadrant introduces Proteus® LSG HS PP Sterilizable Polypropylene for Medical Applications 2/22/2012
Material allows the medical industry to more easily operate within the costs savings imperative ...
---
First Previous Next End Page 1 of 1, Go to page