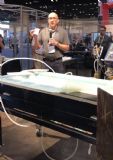 CHOMARAT Reinforcements, 3 Examples Offered In Live Demos At CAMX 2018 Expo 10/16/2018
A skateboard, architectural panels and a rigid roof for boats - all three products rely on CHOMARAT composite reinforcements. The three designs will be on display at CAMX Expo in the demonstration area of COMPOSITES ONE, partner of CHOMARAT and leader ...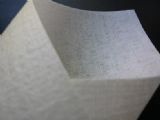 Chomarat Launches Rotaflam™ Neo; a Unique Reinforcement for Roofing Felt that Combines High Performance and Optimal Use of Membranes 12/1/2015
Le Cheylard, France - CHOMARAT announced the launch of its new generation of reinforcements for roofing felt: RotaflamTM Neo, developed in collaboration with Norafin. ...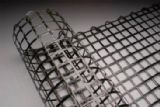 C-GRID®, Product of the Future, at Big 5 Construction Show in Dubai 11/24/2015
C-GRID® is a high-performance reinforcement produced by Chomarat, made by bonding ultra high-strength carbon tow with epoxy resin. It enables precast constructions to be thinner, lighter, more durable and less costly overall than conventional precast ...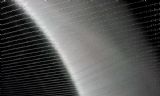 Chomarat and CompoSIDE together at COMPOSITES EUROPE 2015 10/2/2015
PARTNERs IN INNOVATION TO Simplify and optimiSe composites usage ...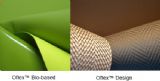 Chomarat at Techtextil 2015: A Unique Range of Textile Know-How 5/4/2015
Chomarat will present all of its activities for the first time at the TechTextil 2015 trade show: coated fabrics and technical films, grids and reinforcements for composites, in a range of sectors that includes construction, luggage, luxury, telephony ...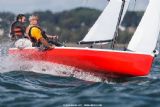 YACHTING: THE ALBATROS by JM FINOT - a C-PLY™ boat for everyone 11/14/2014
Following on from its successful use in the aeronautics sector, C-PLY™ is set to be a key material in Jean-Marie Finot's latest yacht, THE ALBATROS. Both the hull and the deck of the boat will be made from C-PLY™, CHOMARAT's range of carbon ...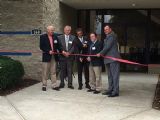 Chomarat Opens New North American Facility 10/28/2014
Opening ceremony for CHOMARAT's new advanced composite facility in North America marks ...

Chomarat presents the first C-Ply™ aircraft: VX-1 KittyHawk™ 2/18/2014
Chomarat presents the first C-Ply™ aircraft: This wingless innovation has been designed by VX Aerospace ...

CHOMARAT presents ROVICORE™ FR at JEC Europe 2014 2/11/2014
ROVICORE™ FR helps to meet requirements for the hazard level (HL) under the new European fire classification standard for train materials that will enter into effect in 2016. ...

K2013: CHOMARAT and ROQUETTE present OFLEX Bio-based, a new biobased coated fabric 10/18/2013
CHOMARAT is rolling out the world premiere of a new line of biobased coated fabric called OFLEX•Bio-based, which is made from Gaialene produced by ROQUETTE. ...

C-PLY™ used for the first time in a "live" demonstration at the K 2013 show 10/18/2013
CHOMARAT, which specializes in textile reinforcements for composites, is an active participant in the "RTM in mold Coatings" project thanks to its line of spread NCF carbon reinforcements. ...

Chomarat launches C-Weave SP, a new line of spread carbon fabrics 9/5/2013
Chomarat, specialist in textile reinforcements for composite materials, is launching C-WEAVE Spread, a new high-end product line at China Composites Expo. It combines high-tech features, strength and innovative design. ...

CHOMARAT launches two new design products for high-end markets 6/7/2013
Chomarat, specialist in textile reinforcements for composite materials, is launching C-WEAVE Spread and OFLEX Design, two new high-end product lines. Both combine high-tech features, strength and innovative design. ...
Chomarat launches Oflex™ Design, A Flexible Coated Fabric that Combines Strength and Low Weight with Design 5/14/2013
The engineered textile specialist Chomarat Group is expanding its range of coated fabrics with a new reinforcement impregnated with a flexible thermoplastic, which will be launched at the Techtextil trade fair on 11-13 June 2013 (Stand B98). ...

Chomarat to be Awarded for its Carbon Innovations During the 1st JEC Americas Show 10/25/2012
- CHOMARAT wins a JEC Innovation Award in the carbon category thanks to C-PLY Bi-Angle™ ...

CHOMARAT certified EN 9100: 2009 for Aerospace Industry 10/12/2012
CHOMARAT has obtained the certification EN 9100: 2009, "Quality Management standard for the aerospace industry." This European Standard defines specific performance and customer satisfaction requirements for the aerospace industry to meet precise quality ...
Chomarat Presents First Industrial Lighter & Stronger Carbon Parts Produced with C-PLY Bi-Angel at JEC Asia 7/19/2012
•For the first time in Asia, CHOMARAT presents the first helicopter part produced by VX Aerospace using C-PLY™ Bi-Angle. ...

CHOMARAT presents A NEW COMPOSITE REINFORCEMENT at JEC Europe 2012! 2/21/2012
Chomarat will give the 2012 JEC Europe a preview of the latest technical advances and the first parts obtained with C-PLY™ Bi-Angle, which makes use of innovative fibre orientations within the composite. ...
---
First Previous Next End Page 1 of 1, Go to page