FlexMove Interventional Vascular Surgery
More room to work in your hybrid OR/interventional suite

A high quality X-ray imaging system can provide critical support during hybrid surgery and endovascular procedures in the same room.

But these fixed X-ray systems can also get in the way of staff and other equipment in a crowded room. FlexMove is the solution.

This new option moves your X-ray imaging system more freely in the treatment area. It can be parked in stand-by position near the table. This provides more room around the table and gives access to other equipment.

Three benefits of FlexMove in the hybrid OR
Position the X-ray system in lateral stand-by position and move quickly in place when needed. During open surgical procedures, FlexMove can be parked out of the way in a corner to free up extra working space

System is ceiling mounted so it frees up floor space for cleaning and accommodates laminar air flows

Works around you. Provides full body coverage on both sides of the table to support complex open surgical and minimally invasive procedures

Easy access to X-ray imaging
The special ceiling rails enable FlexMove to be parked in lateral stand-by position near the table during hybrid surgery and endovascular procedures. Simply move the X-ray imaging system into place when needed. That leaves plenty of room to work around the table in the hybrid OR or interventional suite. When FlexMove is not needed it can easily be tucked away in a corner, allowing more room for caregivers and equipment.

Simplifies hybrid OR workflow
Panning an X-ray system along the table can interfere with wires and tubes. FlexMove can be moved longitudinally and laterally where needed so it does not disturb staff and other equipment. Caregivers can freely access the head end of the table and the anesthesiologist can work here as well without having to move when applying X-ray imaging. FlexMove provides full body coverage and keeps floor space free of bulky equipment.

Hygienic conditions in the interventional suite
If you need to enhance your hygienic conditions and consider the laminar air flow (LAF), FlexMove can accommodate this. The wide ceiling rails allow you to install a LAF unit (3.2 x 3.2 meters). FlexMove can be moved out of the clean-air area when not required.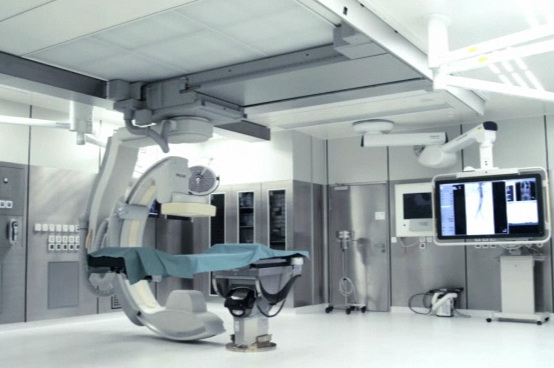 Related Products

Allura Xper FD10
Philips Healthcare
Superb image quality and 3D imaging support for your hybrid room Get the insight and control you need to perform challenging cardiac procedures with ...

WorkNC Dental
Sescoi USA Inc.
WorkNC Dental CADCAM is the reliability and productivity leader for milling dental prostheses automatically. Copings, bridges, abutments and implant ...