CoroTurn RC ceramic
Rigid clamping systems for ceramic and cubic boron nitride (CBN) inserts.

Stability and security are the key words in turning as reliable clamping of the insert has a great impact on the quality of the component. As the CoroTurn RC clamping system combines downward forces with tip seat positioning it presents rigid clamping of the insert and favourable repeatability when indexing the insert.

CoroTurn RC system is available as Coromant Capto cutting units and conventional shank design for all insert shapes and in different entering angles.

??edicated tool holders for ceramic and CBN inserts
??tability and security in productive turning
??arge portfolio of tools with different entering angles, insert shapes and sizes
??nserts and grades for ISO K, S and H
??nserts with wiper technology

Clamping system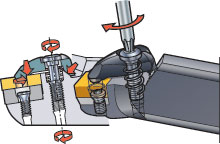 CoroTurn RC system is available in Coromant Capto cutting units and conventional steel shank design for all insert shapes and lead angles.

The clamping system combines the downward forces from the clamp while simultaneously pulling the insert into its tip seat positioning.

??nique stability
??xcellent function even in dirty environments e.g. cast iron machining
??ser-friendly handling - one Torx Plus key for insert and shim change
??asy access even if holder is in up side down position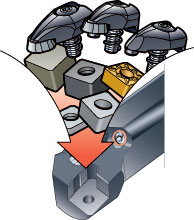 The tip seat on all CoroTurn RC holders has been designed for total interchangeability by changing clamp set and/or shim.

??emented carbide inserts
??eramic inserts with holes
??eramic inserts without holes
??ifferent insert thicknesses

Inserts with Q-style holes

The combination of an insert with a Q-style hole and the CoroTurn RC holder provides an improved tool performance, compared to flat inserts in standard holders. Q-style holes in the insert eliminate the risk of insert movement due to superior clamping.

Clamp sets for ceramics inserts with and without holes.
Related Products

CoroTurn HP
Sandvik Coromant
Coromant Capto? tools for high-pressure coolant CoroTurn HP, a pioneering high-pressure coolant system combined with Coromant Capto, harnesses the ...