Stringo 700 - for long distance transportation
Our customers shouldn''t need to negotiate with ergo-nomics. Regardless of how far or often the cars need to be transported, this should be possible in both a simple and safe manner. It was out of this reasoning that Stringo 700 was born.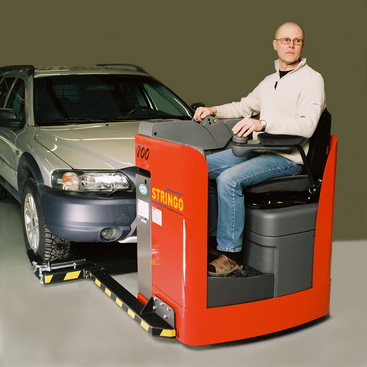 Stringo 700 is driven while in sitting position on the machine as the model has been especially targeted at companies where cars need
to be transported for longer distances.

Stringo 700 is our most advanced model. Fully equipped with all the latest tools within the AC motor operation techniques, as well as the most advanced safety features; the safety features relating to not only the operator, but also to the level of performance and upkeep. Both the seat and step height have adequate adjustment possibilities to ensure comfort for all operators. A mini steering wheel is conve-
niently placed in the armrest area, for ergonomic and safe driving.

Related Products

Stringo CM - simple efficiency
Famek AB
Don''st let Stringo CM''s size fool you. Although this model may be the smallest in our range, it can move cars weighing up to 2000 kg with great ease. ...

Stringo 360 - adaptable design
Famek AB
The Stringo 360s strength lies in its size and adaptable design. The construction of this model has resulted in a significantly scaled-down and low-slung ...