MuCell® Molding Technology
The most significant plastic processing
innovation in the last 20 years

The MuCell® microcellular foam injection molding process for thermoplastics materials provides unique design flexibility and cost savings opportunities not found in conventional injection molding. The MuCell process allows for plastic part design with material wall thickness optimized for functionality and not for the injection molding process. The combination of density reduction and design for functionality often results in material and weight savings of more than 20%.

By replacing the pack & hold phase with cell growth, lower stress parts are produced which have enhanced dimensional stability and substantially reduce warpage. Cell growth also results in the elimination of sink marks.

Unlike chemical foaming agents, the physical MuCell® process has no temperature limitation and does not leave any chemical residue in the polymer; making consumer products perfectly

suitable for recycling within the original polymer classification and allowing re-grind material to reenter the process flow.

The numerous cost and processing advantages have led to rapid global deployment of the MuCell® process primarily in automotive, consumer electronics, medical device, packaging and consumer goods applications.

Reduced Costs

Reduced resin consumption
Faster molding cycle time
Increased yields
Smaller molding machine
Use of lower cost filled polyolefin materials

Design Freedom

Thin to thick wall flow
1:1 wall thickness rib structure
Material where needed for function versus flow
Improved dimensional stability
Less warpage

Sustainability

Reduced petroleum based material consumption
Reduced molding machine energy consumption
Ability to re-grind / re-use molded parts
Reduced carbon footprint versus solid molding

Faster to Market

Fewer tooling iterations
Predictable molded part geometry
Ability to mold large partgle piece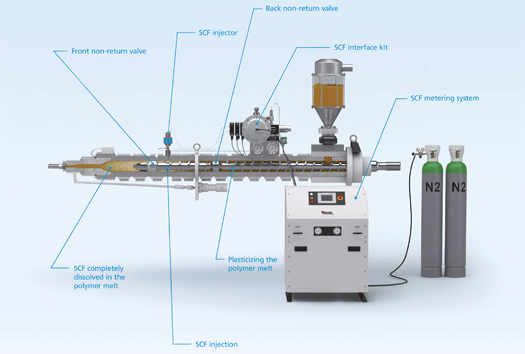 Related Products

SAVE the Planet
Frigel Firenze SpA
High Precision Controllers for High Temperatures The TRP series of Thermogel units are pressurized water temperature controller with indirect cooling. ...

In-Mould-Labelling
fhw moulds GmbH
We constantly do research for innovative solutions. Due to continuous developments in the last years, we have clearly increased mould output efficiency. ...

Special nozzles
GÜNTHER Heisskanaltechnik GmbH
Multi-tip nozzlesg The hot-runner nozzles for side gating give you the ideal scope in designing your hot-runner systems. Special attention was paid therefore ...

Needle valve
GÜNTHER Heisskanaltechnik GmbH
Valve-gate systems The nozzle types listed in this chapter cover a wide range of uses. The modular nozzle design allows a rapid replacement of components ...

Hot runner nozzles
GÜNTHER Heisskanaltechnik GmbH
Hot runner nozzles Standard hot runner nozzles for direct gating from 0.0189 to 5 kg per nozzle. If required, the modular nozzle design allows ...