Supply Cheap Double Girder Gantry Crane Design 50 Ton
Model: MG
MG type double girder gantry crane composed of gantry, crane crab, trolley traveling mechanism, cab and electric control system, The trolley can move horizontally on a pair of rails on the beam. Cabin used for operating, with seats inside.

Floor adopts insulation pads and toughened glass for windows; extinguisher and fan are equipped. Other accessory
equipment like air condition, buzzer, inter phone and etc. can be configured according to our client''s request.


Specification:
Lifting capacity up to 500 ton.
span is 12m to 35m.
Lifting height up to 12m.
Applied outside warehouse or railway sideways.
This kind of crane is composed of bridge, support legs, crane traveling organ, winch trolley, electric equipment, strong lifting winch.
Crane traveling mechanisms are operated in the driver cabin or remote control.
Power is supplied by cable or slide wire.


Main Structure
Double girder, welded box beams, the camber line is according to national standard.
High safety, high steel degree.
Adopts high quality carbon steel, Q235B or Q345B.
The main weld is by submerged arc welding automatic welding, nondestructive flaw detection.
The end truck adopts 10.9 high strength bolt connection.
The crane traveling mechanism adopts separated driving, and it can use trinity drive too, safe and reliable.
End beam equipped with buffer block, orbital cleaning device.


Trolley Part
It includes motor, speed reducer, brake, coupling, wheels, coiling blocks.
No asbestos brake pad and brake block insert use card outfit, safe and reliable.
The speed reducer use hard-toothed surface reducer, compact structure, durable.
Trolley travelling use separate drive;
Have high loading ability, long service life moving stable;
Equipped with the derailment prevention board;
Used for Angle round box, equipped with buffer device;
Modular design, meet customer needs


Packing & Shipping
Packing:
1. Steel structures packed by plastic woven cloth.
2. Electrical and other parts packed by wooden case.
3. All parts will be loaded into 20ft or 40ft container. If the parts length beyond 12.0m, they will be loaded onto bulk cargo ship after package.

Delivery time:
within 35 days after receipt of your deposit.
Payment terms:
FOB, CFR and CIF are common trade terms. We can accept payment terms: TT, L/C, west unit, DP, DA and other.
Related Products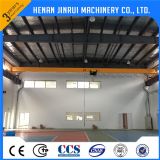 General Industrial Equipment Bridge Crane 5 Ton
Henan Jinrui Machinery Co., Ltd.
European type cranes have such design concepts as small dimension, light dead weight. Compared with traditional cranes, the limiting distance is minimum ...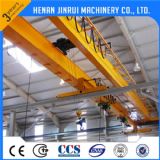 Material Handling 50 Ton Overhead Bridge Crane Eot Crane
Henan Jinrui Machinery Co., Ltd.
Double girder overhead crane is composed of box type bridge frame, lifting trolley, crane traveling mechanism, and electrical system. It is rely on the ...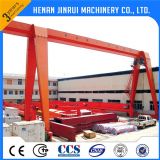 5Ton Single Girder Gantry Manufacturer Crane
Henan Jinrui Machinery Co., Ltd.
MH Type Electric Single-girder Gantry Crane forms a complete set with electric hoist. The surface of facing wind is very small, because of its steel-piping ...

Radio remote control grab
shanghai guanbo machinery equipment co.,ltd
1, It is a merging of the radio remote control technology into the single rope grab for handling of bulk materials. 2, It is particularly designed for ...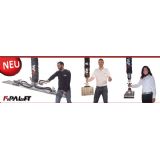 Tube lifters FIPALIFT
FIPA GmbH
The FIPALIFT is a high-quality and sturdy tube lifter in the three available versions FIPALIFT Expert, Smart and Basic Tube lifters are vacuum-based lifters ...