Rapid RG Series Granulators
Slow speed granulation

Screenless operation

Supports Closed Loop Operation

IMD - Integrated Metal Detection

Easy cleaning and service

No compromises

The Rapid RG Series is specifically designed for beside-the-press recycling of hard and brittle materials. The ultra-slow rotor speed and screenless operation provide low noise level and very low dust level even with the most filled and brittle materials.

The Rapid RG Series can also be equipped with the patented Integrated Metal Detection technology (IMD). IMD virtually eliminates the risk of damage to the machine from metal fragments that may have entered the material undetected.
Related Products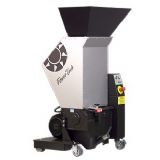 Rapid 150 Series Granulator
Rapid Granulator AB
The Rapid 150 Series of low speed granulators is intended primarily for beside-the-press injection moulding applications. Immediate in-line recycling ...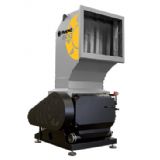 Rapid 600 Series granulators
Rapid Granulator AB
Open-Hearted design! Single operator handling Mineral Composite Technology, MCT Highest quality regrind Extremely short pit stops "Visibly ...