6-Port Industrial Managed Ethernet Switch
Model: LMX-0602-M
Antaira?s LMX-0602-M is a 6-port industrial managed Ethernet switch that is embedded with 4*10/100Tx fast Ethernet ports and 2*100Fx SC fiber connectors with multi-mode 2Km support. It is a Layer 2 full manageable Ethernet switch pre-loaded with user friendly web management console design. It supports Ring Network Redundancy function with market open standard ITU-T G.8032 ERPS (Ethernet Ring Protection Switch) protocol <50ms network recovery time. The advanced network Filtering and Security functions, IGMP, VLAN, QoS, SNMP, Port lock, RMON, ModbusTCP, and 802.1X/HTTPS/SSH/SSL increase determinism and improve network management for remote SCADA systems or control network. The LMX-0602-M is a high performance industrial managed Ethernet switch with a compact size, IP30 rating, DIN-rail or wall mounting design, and standard operating temperature range from -10?C to 70?C. It provides high EFT and ESD protection for any industrial networking applications within Power/Utility, Water Wastewater, Oil/Gas/Mining, Factory Automation, ITS-Transportation, Security Surveillance and any other outdoor or harsh environment._______________________________________________Features:-4*10/100Tx RJ45 Ports and 2*100Fx SC Fiber Ports with Multi-Mode 2Km-Supports Network Redundancy: STP/RSTP/MSTP, and G.8032 ERPS (Recovery Time <50ms)-Supports IPv4/IPv6, and DHCP Option 66/67/82-Supports Modbus/TCP Protocol for Device Management and Monitoring-Configuration: Web Console, Telnet, CLI Command-IGMP v1/v2 for Multicast Traffic Filtering-QoS (IEEE802.1p/1Q), CoS/ToS to Increase Determinism-IEEE802.1Q VLAN for Easy Network Planning-Enhanced Network Security with IEEE802.1X, SNMP v1/v2c/v3, HTTPS, and SSH/SSL-Port Lock Function for Unauthorized Access Based on MAC Address Blocking-Auto Warning by Exception through E-mail, Relay Output-Support RMON Function for Efficient Network Monitoring-Support Port Mirroring for Online Diagnostic-Standard operating temperature -10?C to 70?C-5-Year Warranty
Related Products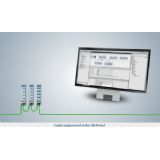 SIMATIC ET 200AL
Siemens Industry Sector
SIMATIC ET 200AL modules stand out with a range of advantages as early as in the engineering phase, but also during assembly and in operation, making ...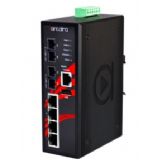 6-Port Industrial PoE+ Unmanaged Ethernet Switch
Antaira Technologies
Antaira?s LNP-0602 series switch is a smart 6-port Industrial Unmanaged Ethernet Switch that supports IEEE-802.3at (Power-over-Ethernet Plus) on ports ...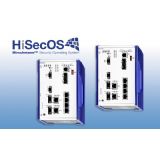 HiSecOS - Hirschmann™ Security Operating System
BELDEN - Sending all the right signals
Software Platform for Hirschmann? EAGLE Security Router familySoftware_HiSecOS_EAGLE20-30_smallHiSecOS is the latest operating system for Industrial Security ...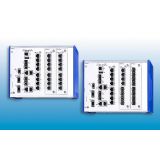 RSPE switches from Hirschmann™
BELDEN - Sending all the right signals
Thanks to a range of media modules, the managed industrial Ethernet switches in the new RSPE family offer maximum flexibility, a future-proof network ...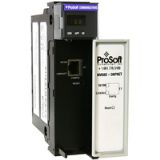 DNP3 Ethernet Module for ControlLogix®
ProSoft Technology, Inc.
DNP3 Ethernet Module for ControlLogix?MVI56E-DNPNETThe MVI56E DNP3 Ethernet Communication Module allows Rockwell Automation ControlLogix ? PACs to interface ...