Hot Sales Grass Fine Grinding Machine
Model: SFSP668
Features:
1. It is used for grinding raw materials of large and medium livestock and aqua feed mills. It can also be used for grass and pharmacy fine grinding. The granular raw materials, such as corn, sorghum, wheat, beans, etc can be ground;
2. It is derived from the tear circle type hammer mill and efficiency can be improved by 45%-90% compared to universal hammer mill;
3. It can produce qualified aqua feed under full load with ?0.8, ?1 screen and reduce jam significantly. Both coarse and fine grinding can be completed without changing screens;
4. The right aspiration can make materials go through screen quickly, reduce temperature of grinding chamber and increase output effectively.
Related Products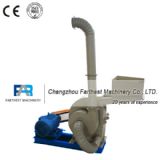 Sorghum Stalk Hammer Mill For Home Use
Changzhou Farthest Machinery Co., Ltd.
Features: 1. It is widely used for grinding for maize, grain sorghum, rice bran, rice straw, vine, maize straw, sorghum stalk, beanstalk, wheat straw ...

feed crusher and mixer
ZHENGZHOU SHULIY MACHINE Factory
specification: Model Capacity Power of crusher Power of mixer SL-300 300-400kg/h 4kw 2.2kw SL-1000 800-1000kg/h 7.5kw 3kw SL-2000 1000-2000kg/h 11kw 3kw ...