Type GVL-HS 2 Vacuum Lifting Device
This battery operated vacuum lifting device which was available in a similar form on the market for years has been developed and adapted to the requirements of the practice from euroTECH. The glass lifting device has been equipped according to the new European Norm DIN EN 13 155 with bigger suction plates and a two-cycle system with double valves, tank and a vacuum display without enlarging the outside dimensions significantly. [videos]

The really robust central pivot bearing allows turning the work pieces freely (360 degree). For the transport or the special operation behind scaffoldings the beam, which is rotatable (90 degree), can be detached. Additionally, the vacuum lifter can be expanded and reconstructed in different positions with extensions.
The euroTECH GVL-HS2 lifting device is the ideal cooperator when it comes to glazing work or transportation and mounting of solar and photovoltaic modules.

Glass vacuum lifting device of type GVL-HS 2:
• Maximum 500 kg
• heavy, extensive elements
• narrow long elements
• Standardised overall size
• 360 degree rotable
• 90 degree rotable
• slim-flat function, a huge advantage for pane and veneer installations on construction sites. Suitable for the usage between scaffoldings and walls
• little construction height (190 mm)
Related Products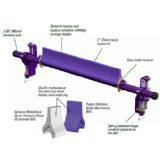 Y-Type™ Secondary Cleaner
Flexco
The Y-Type™ Urethane Secondary Belt Cleaner improves belt cleaning efficiency and reduces routine maintenance tasks. With an easy, do-it-yourself ...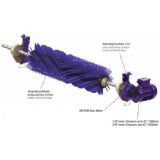 Motorized Brush Cleaner
Flexco
Chevron, cleated and raised-rib belts present a special problem for efficient cleaning. The Motorized Brush Cleaner is an ideal option for cleaning these ...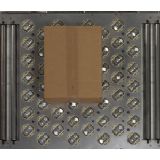 Omni-Directional Sorter
Intralox, L.L.C.
Intralox''s OMNI-DIRECTIONAL Sorter is capable of both receiving products from any direction and then sorting them in any direction at high rates within ...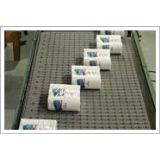 ARB Aligners
Intralox, L.L.C.
ARB Alignment Conveyor Precisely Aligns All Types of Products in a 40% Smaller Footprint Intralox''s alignment conveyor accurately aligns boxes, ...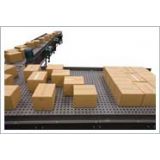 ARB Depalletizing Systems
Intralox, L.L.C.
Rapid Descrambling of Complex Pallet Layers in a Small Footprint Intralox''s ARB Pallet Layer Descrambler is a highly reliable and flexible complement ...