Surface Energy Analyzer
The iGC Surface Energy Analyzer (SEA) continues Surface Measurement Systems'' pioneering history with inverse gas chromatography (IGC), which now spans more than fifteen years.

The SEA is a second generation Inverse Gas Chromatograph instrument. The revolutionary SEA is the world''s only commercial instrument based on the ICG principle. The unique SMS injection scheme provides a wide range of injection concentrations with unrivalled accuracy and reproducibility.

Surface energy, is the principle characteristic measured by the iGC-SEA (Inverse Gas Chromatography-Surface Energy Analyzer). For a solid to exist, it must be energetically favorable (of lower energy) for its molecules to form bonds with each other. It follows that the molecules at the solid''s surface are in a less favorable state (i.e of higher energy), as they are not surrounded by other bulk molecules.
Related Products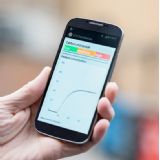 Low Power Gas Sensors
Cambridge CMOS Sensors
Cambridge CMOS Sensors (CCS) is an industry leader in sensor technology for environmental sensor solutions for a wide range of applications. We are a ...

GUARDION - Next generation portable GC/MS chemical identifier & mixture analysis
Smiths Detection Inc
GUARDION utilizes high speed, high resolution gas chromatography (GC) and a revolutionary miniaturized toroidal ion trap mass spectrometer (MS) to identify ...

UltiMate 3000 Basic LC System
Thermo Fisher Scientific Inc.
UltiMate? 3000 basic systems are cost-effective solutions for conventional HPLC and UHPLC. Fully-scaleable, modular basic systems are designed to provide ...