M2M Controllers
Advanced, Rugged Designs for Robust Applications

StarChip M2M Products As IT organizations around the globe rapidly migrate to wireless technology, the market for machine-to-machine (M2M) communication is expected to soar. SIM technology has proven to be a robust solution for M2M applications, suitable for a wide range of diverse applications. Over the next two years, automotive applications are expected represent the largest installed base for SIM applications, eclipsing energy metering, security alarms, and POS terminal applications.

The StarChip® SCM Controller Family is based on SST Super-Flash technology, enhanced by ECUBE proprietary mechanisms to deliver a powerful combination of flexibility and best-in-class endurance. SCM controllers feature a robust design suitable for harsh environments from -40oC to +105oC. They provide extended performance up to 2 billion cycles, and can be delivered in wafer form, sawed dice on frame, or DFN8 packages.

Customers can license all products from StarChip®, then purchase silicon and backend manufacturing directly from our foundry partners.

To learn more about how SCM Controllers can benefit your organization, please contact StarChip® Sales.

SCM Controllers Family Features

High-performance 32-bit core Cortus APS3s
20Mips @ 20MHz across a broad spectrum of temperatures
Advanced low power modes
Fully flash-based ICs, code and data with SST SuperFlash
E3 (ECUBE) -Endurance Enhancement Engine: up 2000M cycles
Robust data retention (>10years)
Extended temperature tolerance from -40oC and +105oC
TurboSecure Uploading System: 1Mbits/Sec including transmission and decryption
Secure lifecycle management: High resistance to cloning with locked functionality and exhaustive traceability

SCM Cost Advantages

Smallest 32-bit core: Cortus APS3s ⇒ Native 32-bit capability at 8-bit cost
SST embedded NOR flash ⇒ High-density memory
Rapid software uploading in manufacturing ⇒ Cost savings
Direct purchase from foundries ⇒ Savings through reduced-cost value chain

SCM M2M SIM Controller Family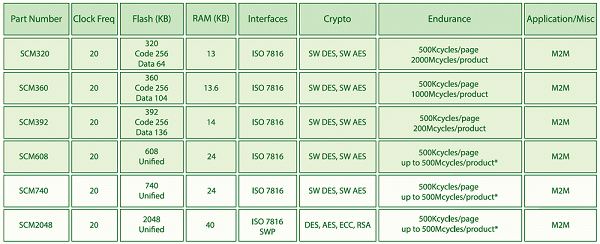 Related Products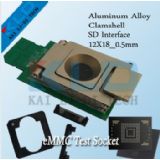 eMMC NAND Flash Test Socket
Shenzhen KLD Technology Co,.Ltd.
eMMC NAND Flash Test,reading, changeable frame guide,SD Interface,Torlon insulating,durable,Premium, Features: 1. Apply to Samsung,Sandisk,Toshiba,Hynix,Micron,MTK,Intel, ...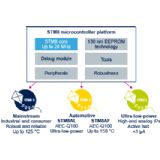 STM8 8-bit MCUs
STMicroelectronics
ST''s 8-bit microcontroller platform is implemented around a high-performance 8-bit core and a state-of-the-art set of peripherals. This platform is manufactured ...

Aerosol Jet Lab systems
Optomec Corporate
Aerosol Jet Lab systems are ideally suited to develop next generation processes and devices for photovoltaic, touch screen displays, 3D interconnects ...