eMMC NAND Flash Test Socket
Model: KLD-007-002
eMMC NAND Flash Test,reading,
changeable frame guide,SD Interface,Torlon insulating,durable,Premium,
Features:
1. Apply to Samsung,Sandisk,Toshiba,Hynix,Micron,MTK,Intel, etc--eMMC
2. Apply to BGA153/169.
3. Accurate positioning on flat bottom pad and solder of eMMC.
4. Long operating life,up to 30,000 times.
5. Apply to eMMC thickness:0.8--1.5mm.
6. Could reading and writing the data of eMMC with it.
7. eMCP size : 12X18mm,pitch:0.5mm.
8. Easy to operate,insert the SD into your PC, then could read.
9. Support flat bottom and solder ball testing.
Related Products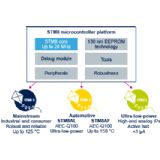 STM8 8-bit MCUs
STMicroelectronics
ST''s 8-bit microcontroller platform is implemented around a high-performance 8-bit core and a state-of-the-art set of peripherals. This platform is manufactured ...

Aerosol Jet Lab systems
Optomec Corporate
Aerosol Jet Lab systems are ideally suited to develop next generation processes and devices for photovoltaic, touch screen displays, 3D interconnects ...