TenCate Advanced Armour naval solutions
TenCate is an experienced provider of protection systems for modern naval platforms, answering the requirements of modern day asymmetric threats as well as traditional threats in maritime conflicts.

TenCate protection systems greatly enhance the operability of the vessel and the survivability of the crew, without impairing overall functionality of the vessel.

The systems are modular and lightweight and can be engineered to fit a wide range of vessels from large naval ships, littoral combat ships, offshore patrol vessels, fast patrol boats, and interceptor crafts to inflatable boats.

TenCate Liba and TenCate Ceratego advanced composite armour solutions are designed to provide protection for crew and mission-critical areas of the vessel such as bridge and communications and control room as well as munitions storage and engine room.

For complex applications, such as protection of weapon systems, communications equipment and radomes TenCate can provide precision engineered 3D structural solutions with special properties such as radar transparency, providing the required protection without compromising system performance.

For all types of maritime platforms and applications, TenCate Advanced Armour can provide a cost-effective and fully engineered protection solution, perfectly balancing protection, performance and weight requirements.

Durable and flexible solutions

At sea, as on land and in the air, man and materiel must be protected. TenCate Advanced Armour offers naval armour solutions based on lightweight ceramic and composite materials, with both soft and hard armour. In order to achieve the optimal configuration for protection - whilst respecting fully maritime performance criteria - TenCate collaborates with all elements of the ship design and build team including raw materials suppliers, vessel builders, test and knowledge institutes, and others.

TenCate Advanced Armour naval systems provide maximum protection in accordance with a variety of NATO STANAG levels. In achieving the high standards they add a minimum of weight, and a negligible effect on payload and performance. Naval vessel armour is used to protect mission-critical areas on board, including ammunition magazines, bridge stations, combat information centres, communication equipment and weapon systems. TenCate also seeks to protect the crew. As with all areas of ballistic protection: maritime vessel protection is a complex, and dynamic challenge, which is characterized by numerous international standards, as well as individual project requirements. TenCate Advanced Armour solutions, which include ceramic and composite materials, have the advantage, being considerably lighter than the traditional steel.

TenCate Advanced Armour recognises fully the importance of whole life product performance. TenCate Advanced Armour offers a full after sales support service in close collaboration with the customer and end user, and is always seeking ways to improve the product by new technology insertion and upgrade. The TenCate Advanced Armour Research and Technical Department works ceaselessly to improve the capability and is actively engaged with knowledge institutes, test facilities and academia to achieve ever higher results.
Related Products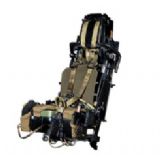 Moog Fighter G-Seats
Moog Inc.
BRINGING THE FIGHTER EXPERIENCE TO LIFE Moog G-Seats for fighter pilot training systems are designed in close collaboration with customers to ensure ...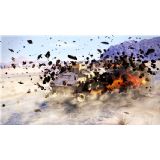 TenCate ABDS™ Active Protection System
Royal Ten Cate (TenCate)
The Improvised Explosive Device (IED) continues to be the weapon of choice for insurgents and the primary threat in asymmetric warfare. The TenCate ...