TenCate ABDS™ Active Protection System
The Improvised Explosive Device (IED) continues to be the weapon of choice for insurgents and the primary threat in asymmetric warfare.

The TenCate ABDS™ active blast countermeasure system can effectively mitigate the devastating effects of large IED blasts by defeating the acceleration of the vehicle and the vehicle structure. The transfer of blast energy to the occupants is managed to effectively reduce or eliminate destructive physical injuries. The TenCate active countermeasure system can be retrofitted to a wide range of vehicle platforms to address the ever changing and constantly evolving theater wide IED blast threat.

Recent testing, completed on fully instrumented vehicles, successfully incorporated the Trigger and Activation System (TAS) that has been designed exclusively for the TenCate ABDS™ active blast countermeasure system. Reacting to an authentic blast event, TAS provides a stable, secure, high speed, automated fire command to actuate the proprietary countermeasures and yield a precise programmed structural and biomechanical response mode.

TenCate ABDS™ active blast countermeasure system acknowledges both STANAG 4569 AEP-55 Vol. 2 and specifications for larger country specific threats as well as the new STANAG 4569 at classified threat levels. Contemporary data demonstrates a significantly improved threat protection capability and technological maturity for integrated applications on wheeled and tracked, combat and tactical, military ground vehicles.

TenCate ABDS™ active blast countermeasure system is an efficient and effective underbody blast threat protection system that can be installed on light, medium and heavy platforms. Test results illustrate mounted occupant survivability improvements that surpass those of other currently available blast protection systems.
Related Products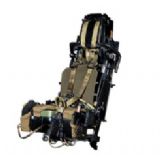 Moog Fighter G-Seats
Moog Inc.
BRINGING THE FIGHTER EXPERIENCE TO LIFE Moog G-Seats for fighter pilot training systems are designed in close collaboration with customers to ensure ...