CCD image sensors
CCD44-82_2 (small)e2v is the leading supplier of Charge Coupled Devices (CCDs) to scientific, space, astronomy and defence applications with an impressive record of successful deliveries to a wide range of customers over the decades.

Partial or full design customisation is available alongside standard parts, to produce the device characteristics required for the best possible system performance.

CCD imaging sensor design, manufacture, test and characterisation are in-house with multi-polysilicon, multi-metal and back-illumination fabrication available for high speed, resolution, sensitivity and low noise.
Related Products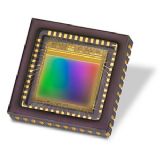 CMOS image sensors
e2v - Bringing life to technology
Complementary Metal Oxide Semiconductors (CMOS) image sensors will play a growing role in scientific, space and defence applications over the coming years. ...

QVPAK Software for Vision Measuring
Mitutoyo Corporation
Mitutoyo''s Quick Vision 3D CNC vision measuring systems are now provided as standard with the new version 10.0 of the QVPAK measuring software. It controls ...

AutoVISION Machine Vision Software
Microscan Systems, Inc.
Machine Vision, Simplified. AutoVISION is designed for simplicity and ease of use. It is ideal for machine vision beginners because it simplifies common ...

Vision MINI
Microscan Systems, Inc.
World''s Smallest Machine Vision System Vision MINI is the world?? smallest fully integrated machine vision system. It has a full suite of vision tools, ...

Vision HAWK
Microscan Systems, Inc.
World''s First Liquid Lens Machine Vision System The Vision HAWK is a flexible industrial smart camera that delivers powerful vision capabilities in ...