B-Series SCF Delivery System for Blow Molding Applications
The Trexel MuCell B-Series SCF (Super Critical Fluid) delivery system is a state of the art Nitrogen delivery and dosing system designed specifically for automotive blow molding applications. The system is designed to convert industrial grade Nitrogen into a super critical fluid.

The system precisely doses and injects the super critical fluid into the plasticizing unit of the blow molding machine at a pressure of up to 275 bar, creating a lower density microcellular material structure in the blow molded part.

The B-Series SCF delivery system is designed specifically for the automotive blow molding industry and is available in 2 different configurations: The B-300 is designed for discontinuous extruder types and doses SCF on demand only. The B-320 is designed for continuous extruder types and delivers a constant flow rate of SCF.

B-Series systems feature an industry leading control system with a 15" PC based graphical touch screen user interface. Set up parameters require only the parison weight and percent of SCF for discontinuous types or flow rate and percent of SCF for continuous types. The system calculates everything else and provides for the interface with the blow molding machine, resulting in reliable and consistent microcellular foaming of blow molded automotive parts.

Technical Data
Model B-300 B-320
Operating Mode Discontinuous Continuous
Minimum Supply Pressure 13.8 bar
Maximum Supply Pressure 200 bar
Maximum Flow Rate 1.2 kg/hr
Overall Dimensions (WxDxH) 55x63x156cm
Weight 240 kg
Electrical Connection 230/110 VAC 1ø 50/50Hz
Air Consumption 1500 NLM @ 6.5-10 bar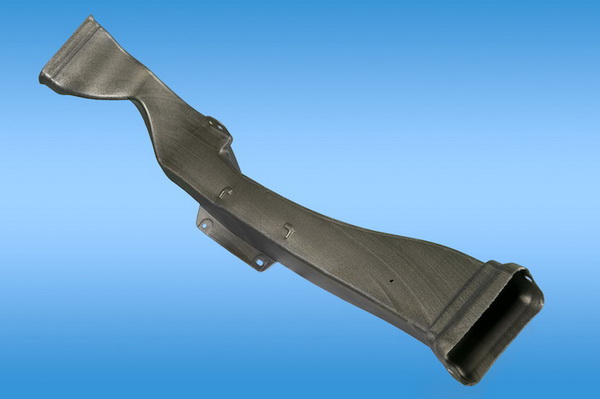 MuCell® blow molded polyethylene air duct with 41% density reduction compared to solid

MuCell® Blow Molding for Automotive Parts As a leader in providing lightweighting solutions to the automotive plastic parts industry, Trexel offers its patented MuCell® microcellular foaming technology for the production of blow molded automotive components with the following benefits:

- Significant weight and material savings due to reduced material density, 35-45% typical weight reduction
- Improved thermal insulation properties
- Improved acoustical properties
- MuCell® foamed parts can be recycled in their original polymer designation; the physical foaming process does not alter the chemistry of the polymer
Related Products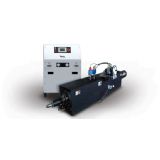 MuCell® Molding Technology
Trexel, Inc.
The most significant plastic processing innovation in the last 20 years The MuCell® microcellular foam injection molding process for thermoplastics ...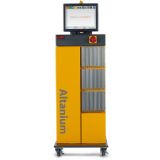 Altanium Matrix temperature controller
Husky Injection Molding Systems Ltd.
Our Altanium Matrix™ controller provides accurate temperature control in a flexible, modular design. Altanium Matrix is ideal for medical and other ...

IML
StackTeck Inc.
Injection molded in mold labeled products have expanded rapidly to new market applications with 1-, 3- and 5-sided and wrap-around applications for event ...

Stack Molds
StackTeck Inc.
Stack molds are a series of molding faces "stacked" together to create multiple faces or levels for molding. Each level or face is a parting ...

Bump-off Molds
StackTeck Inc.
Bump-off mold technology produces plastic caps and lids, or any plastic part, with internal undercuts requiring the need of a mechanical push to eject ...