Forwarders 835
The Komatsu 835 is the world's absolute best when it comes to environmental benefits, low weight, manoeuvrability and power for thinning forwarders in its class, 11 tons. A true specialist in other words, that provides both contractors as well as machine operators and landowners with unique advantages.
Related Products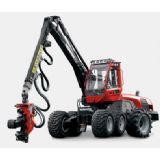 Wheeled Harvesters 901
Komatsu Forest AB
The Komatsu 901 is part of our latest harvester generation featuring technological advances that uniquely benefit the environment, the working environment ...

Hole digger
SHANDONG TIANSHENG MACHINERY CO.,LTD.
Our researchers carried many times'' field study during the long-time use of customers, and expanded the machine'' s scope of using on primary basis,after ...