Red Lion 15 Inch Touch Screen G315
Model: G315
The Red Lion 15 Inch Touch Screen G315C combines powerful features normally found only in PC-based HMIs, with the reliability of a dedicated operating system. It is built around a high performance core with integrated features, allowing it to
provide SCADA-like functionality at a fraction of the cost.
Red Lion 15 Inch Touch Screen G315C is able to act as a multiple protocol converter using four highspeed RS232/422/485 communications ports and an Ethernet 10/100 Base-TX
port.
The Ethernet port supports up to four protocols simultaneously, allowing dissimilar Ethernet based products to communicate with one another.
The Red Lion 15 Inch Touch Screen G315C USB port allows fast downloads of configuration files and access to trending and data logging. A CompactFlash socket is provided so that standard ComplactFlash cards can be used to collect your trending and data
logging information as well as to store configuration files. The built-in web server allows processes to be controlled remotely.
The G315C''s 15 Inch Touch Screen HMI large, 15 inch high-resolution display allows users to easily view and
enter information. Data can be manipulated through the touchscreen and/or the 10-button keypad.

Related Products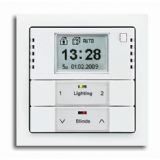 ABB Touch Screen
A&S Photoelectric Induction High-Technology Co., Ltd.
Red lion analogue resistive touch screen G307K200 Description: TOUCH SCREEN, 200.35 X 146.35MM, ANALOGUE RESISTIVE Meter Display Type: TFT-LCD Colour ...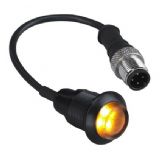 EZ-LIGHT® S18DLH High Intensity General Purpose Indicators
Banner Engineering Corporate
These 18 mm general purpose indicator lights are extremely bright and can be easily viewed in areas with high levels of ambient light, including direct ...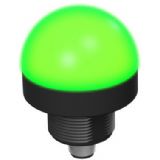 K50L Hazardous Area Indicator
Banner Engineering Corporate
Available in our most popular housing model, the K50L hazardous areas indicators are available in intrinsically safe, encapsulated and non-sparking models. ...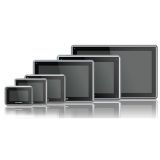 Kollmorgen Automation Suite™ HMI
Kollmorgen
Whether you need a simple operator interface or a complex control environment for a machine with multiple input points, Kollmorgen Automation Suite™ ...