Slow Axis Collimators
Designed for Use with Laser Bars
Can be Used With Fast Axis Collimators
Low Curvature Deviation for Increased Collimation
Slow Axis Collimators consist of a monolithic array of cylindrical lenses designed to collimate the individual emitters of a laser bar. Slow Axis Collimators feature greater than 99% transmission across the designated spectral range to guarantee high performance with minimal loss of light. To meet an application's unique collimation needs, Slow Axis Collimators can also be used with Fast Axis Collimators for custom collimation combinations.
Related Products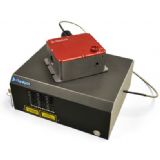 FemtoPower FP1060-fs & FP532-fs High-power femtosecond fiber lasers
Fianium Ltd
The FP1060-fs series is a high power ultrafast fiber laser which utilizes efficient pulse compression to provide high quality optical pulses of less than ...

High Power Laser Diode Multi-Bar Modules
Oclaro, Inc.
Built on the highly reliable Monsoon® platform, the Oclaro ProLite® Multi-bar Modules give OEM product developers scalable power for >500 W ...

integrated diode laser driver
Wuhan Talent Century Technology Co.,Ltd.
Integration semiconductor coupling laser power Features: Semiconductor laser driver power supply -Adaptive semiconductor laser output: 0 ~ 3 V (also ...

diode laser driver
Wuhan Talent Century Technology Co.,Ltd.
High power semiconductor laser power supply Product Features: -Adaptive output voltage: 2 ~ 24 V; -Adaptive output current: 0 ~ 150 A; -Alternative ...

PowerLine Prime 15
ROFIN-SINAR Laser GmbH
Standardized marking laser with high throughput The air-cooled, pre-configured PowerLine Prime 15 offers up to 15 W output power. This easily integrable ...