5-axis CNC machining centres
Hurco 5-Axis CNC Mills Yield Maximum Profitability

Nobody Makes 5-Axis Easier than Hurco

Ten years ago, we set a goal as a company to manufacture the best 5-axis CNC machining centres with the best control and software in the industry. The reason is simple: we determined 5-axis technology would make our customers more profitable. Our 5-axis CNC machining centres, equipped with the integrated Hurco control, are simply the best in the industry. Nobody does 5-axis better than Hurco. And nobody gets you from print to part faster.

Full Support of Simultaneous 5-Axis with Fanuc Integration
A rigid machine that is fully compatible with all CAD/CAM packages for simultaneous 5-axis machining with complete Fanuc integration is a minimum requirement for complex simultaneous 5-axis parts. Hurco has all that and more. We have control features that optimise CAM programs to reduce the file size, improve surface finish, and reduce cycle time. Additionally, you'll appreciate the fast processing speed and generous 2 GB RAM.

Eliminate Bottlenecks and the Cost of a CAM System
Even if you don't require simultaneous 5-axis right now, a Hurco 5-axis machining centre will immediately increase the profit margin of the parts you currently manufacture on a 3-axis machining centre. Switching from 3-axis to 5-sided machining on a Hurco 5-axis machining centre is seamless because our control is equipped with powerful conversational programming features for 5-sided--and no CAM system needed. You program right at the machine. It is the easiest, most intuitive interface on the planet.

Benefits of Swivel Head 5-Axis CNC Machine
The swivel head / rotary table 5-axis machines (SR style) can handle heavier parts than the trunnion style 5-axis machines. Since the swivel head tilts the tool, you don't need to worry about tool interference with the machine's spindle head on the SR machines. Additionally, the SR design gives you more versatility because of the large table size. You can add a vice and use the extra table space to finish the sixth side of the part or do 3-axis work.

Premium components, such as oversized linear rails, high accuracy encoders, and an integral spindle, result in a rigid and reliable 5-axis mill you can count on for the most complex applications.

Benefits of Trunnion Style 5-Axis CNC Machine
A trunnion style 5-axis machine has better undercut capability because the trunnion rotates +110 degrees compared to the swivel head's +92 degrees. The trunnion style gives you a larger work volume than a swivel head 5-axis mill because you don't need to compensate for the space used by the swivel head with the tool attached. The trunnion 5-axis also gives you more torque at low rpm. If you are new to 5-axis, some customers find this configuration beneficial because the approach to the part is similar to 3-axis machining - you are simply machining more sides at one time in a linear fashion.

As with all Hurco machining centres, you have the peace of mind that it is constructed to promote rigidity and accuracy with oversized linear rails mounted to the shoulder, dual wound spindles with ceramic bearings, pre-loaded and stretched ball screws that are also anchored to the Z-axis, and high accuracy encoders.
Related Products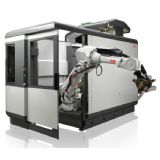 FlexMT
ABB Ltd.
A leader in the development of automation solutions, ABB''s FlexMT sets the standard in flexible machine tool tending. This robotic solution increases ...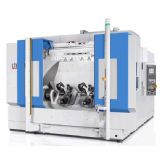 CHIRON series 26 Machining Centre
Chiron-werke GmbH & Co. KG
The CHIRON series 26 offers the optimal foundation for highly productive, powerful cutting and machining results. Whether your focus is on flexible singleunit ...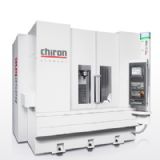 MILL FX 800 Baseline
Chiron-werke GmbH & Co. KG
The Mill800 FX offers optimal conditions for highly productive cutting and accurate machining capabilities. One of the machines many unique strengths ...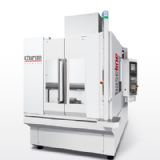 Chiron FZ 15 W Baseline
Chiron-werke GmbH & Co. KG
The FZ15 W has enormous ability for high miling capacity and is among the best machining center of its class in terms of speed, compact construction, ...

Linear Way Vertical Machining Centers
Buffalo Machinery Co., Ltd.
MM-400 is based on an effective principle of delivering customer value with low investment costs and combined with high production output. Compact design ...