C-FLEXline presses
C-FLEXline presses are modular machines with a comprehensive basic configuration, which are designed for both manual loading, as well as for automatic operation. Peripheral devices can be conveniently integrated into the press control system. In the range of 630 - 2,500 kN, they guarantee high quality product at low unit costs.
Your advantages

modular structure of the press: if production conditions change, the press can be retrofitted at any time, from straightforward manual feeding through to fully automatic production
ergonomic operation and changeover of the press
manual rapid setting with 630 kN and 1,000 kN as well as motorized rapid setting with 1,600 kN and 2,500 kN
motorized slide adjustment for even easier and quicker changeovers (optional with 630 kN and 1,000 kN)
precise roller circulation units guarantee the slide is guided with high tilting stability. They require little maintenance and are wear-free
the intermediate gear ensures a high working capacity even at low stroke rates
protection of machine and die by hydraulic overload protection
electronic cam index gear for controlling the peripheral devices with angular precision, including process monitoring functions (»comfort« version)
Related Products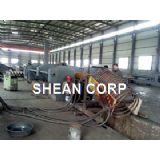 Hot Elbow Forming Machine
Shean (Cangzhou) Corp Ltd
Technical data of OD 762mm Hot Elbow Forming Machine: Max. produced elbow OD: 610mm Min. produced elbow OD:219mm Max. produced elbow thickness:14mm ...

High Standards and Long Service Life - THAKO Models
Thalmann Maschinenbau AG
The THAKO model, the Thalmann Company's flagship folder, was primarily designed for ambitious facade and roof constructors as well for the industry sector ...

TD Double Bender - precise, fast, flexible and innovative
Thalmann Maschinenbau AG
Now, the TD double benders also harness the advantages of double bending for large-scale operations of sheet metal, façade construction, and general ...

Piccolo Kraftformer - MANUAL Pressure Control
U.S. Industrial Tool & Supply Company
The Eckold electrically operated machines are designed for speed and accuracy of operation. These universal machines are used for cold chipless metal ...

Tube Bending Machine
Unison Ltd
Unison''s BREEZE range of All Electric Tube Bending Machines breaks with the traditions of the past by eradicating noisy dirty, old fashioned hydrauilics ...