LUMAWISE Type Z50 LED Holders
The LUMAWISE Type Z50 LED Holder provides a quick and easy solderless connection to industry leading chip on board and LED arrays. The Z32 and Z50 include LED snap-in retention feature enables you to quickly make LED light engine modules assemblies.

Features a reliable solderless power connection, secure mechanical attachment, proper thermal hold down forces, and a landing zone with attachment features for additional secondary optics.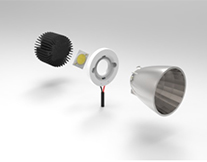 KEY FEATURES

• Snap-in LED retention feature simplifies installation by securing the LED to the holder before mounting
• Poke-in wire connection eliminates time consuming soldering to the LED
• Enables constant thermal down force to minimize influence by thermal plastic deformation at high temperature
• Makes easy and clean thermal paste application possible with built-in excess paste overflow feature
• Provides a specified and stable landing area for additional secondary optics
• Optional alternate mechanical optic attachment accessory
• Minimalistic aesthetic design with clear polarity indication to aid assembly
• Mechanically strong and robust design with negligible light interference
• Available optics from Carclo and LEDIL
Related Products

LED long-shoting flashlight
Longxing optoelectronic limited
1: LED Chipset: America CREE Q5; Color temperature: 6800K-8000K, life time: more than 50000-100000 hours. 2: Luminance output: (Max-Middle-low-p flash-SOS), ...

MR16 LED Lamp
Lextar Electronics Corp.
Lextar''s 5W MR16 LED lamp features good uniformity that comes from our special lens technology. The LED comes from Lextar''s excellent COB technology. ...

3W Candle Lamp
Lextar Electronics Corp.
Lextar carries LED candle lamps with high qualities you deserve including brightness, color rendering, uniformity and light distribution. It inparticular ...

Omni-directional A-bulb
Lextar Electronics Corp.
Lextar''s omni-directional A-bulb series deliver total replacement of incandescent light bulbs. It is composed of high effi ciency LED packages with lightweight ...

Airline desk light
Balmuda Inc.
The Airline combines both the use of high-power LEDs and beautiful form to bring to you an all-new desk light, never seen before. Using only 4.5 watts ...