Robot UR10
Robots that are up and running in less than an hour
Your industrial robot can be up and running in less than hour - even by inexperienced users. They also offer unparalleled performance in precision handling, flexibility, and payload.

Smart. Fast. Flexible. Affordable.
The noisy, clunky, expensive robot is a thing of the past. At Universal Robots we are looking toward the future while offering smart solutions for today's industrial robot operators. Our innovative collaborative robots make it easy and affordable to automate your production process. The lightweight robots can be moved easily around your production area, and a simple user interface is a snap to learn.

Collaborative robots that can run without shielding
With our callaborative robots it is easy to develop applications that can run without shielding. A thorough risk assessment must however always be made.

Quick payback
Our robots are designed for a wide range of industries from small machine shops and to large-scale automotive assembly lines. Regardless of the size of the business, our clients enjoy a rapid return on their investment.

6-axis robot arm with a working radius of 1300 mm / 51.2 in
Weight 28.9 kg / 63.7 lb
Payload 10 kg / 22 lbs
Reach: 1300 mm / 51.2 in
Joint ranges: +/- 360º on all joints
Speed: Joint: Max 120/180º/sec. Tool: Approx. 1 m/sec. / Approx. 39.4 in/sec.
Repeatability: +/- 0.1 mm / +/- 0.0039 in (4 mil)
Footprint: Ø190 mm / 7.5 in
Degrees of freedom: 6 rotating joints
Control box size (WxHxD): 475 mm x 423 mm x 268 mm / 18.7 x 16.7 x 10.6 in
I/O ports: 10 digital in, 10 digital out, 4 analogue in, 2 analogue out
I/O power supply: 24 V 1200 mA in control box and 12 V/24 V 600 mA in tool
Communication: TCP/IP 100 Mbit: IEEE 802.3u, 100BASE-TX
Ethernet socket & Modbus TCP
Programming: Polyscope graphical user interface on
12 inch touchscreen with mounting
Noise: Comparatively noiseless
IP classification: IP54
Power consumption: Approx. 350 watts using a typical program
Collaboration operation: Tested in accordance with sections 5.10.1 and 5.10.5 of EN ISO
10218-1:2006
Materials: Aluminium, ABS plastic
Temperature: The robot can work in a temperature range of 0-50ºC
Power supply: 100-240 VAC, 50-60 Hz
Calculated Operating Life: 35,000 Hours
6 metre / 236 in cable between robot and control box
4,5 metre / 177 in cable between touchscreen and control box
Related Products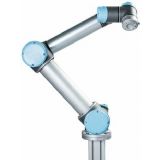 UR5 - Robots that are up and running in less than an hour
Universal Robots A/S
Your industrial robot can be up and running in less than hour - even by inexperienced users. They also offer unparalleled performance in precision handling, ...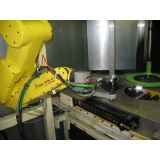 Venjakob VEN SPRAY ROBOT
Stiles Machinery Inc.
Not long ago, robots were perceived as a threat to painters'' jobs. Today, manufacturers realize that without robotic automation they may not be able ...

KS Tool Changer 210 / 500
KUKA Systems Group
The tool changer is designed for the automated changing of tools and workpiece carriers on the robot and is rated for a payload of up to 210 dN / 500 ...

KS Turnflex
KUKA Systems Group
KUKA Turnflex gives manufacturing systems a high type flexibility: Turnflex combines type flexibility and single tooling Geometry fixtures are readily ...