Videojet 8610 Ink Jet Printer
The Videojet 8610 utilizes a revolutionary, purpose-built cartridge designed to use MEK fluids. You can now bring the simplicity of thermal ink jet to applications that require printing of crisp, repeatable codes on foils, films, plastics and coated stocks. Ideally suited for applications in food processing, cosmetics, and pharmaceuticals, the 8610 combines high-resolution printing of customer-facing and supply chain information with incredibly simple operation.

Maximum Print Resolution(1) 240 x 240 dpi
Print Speed(2) up to 102 meters/min. (333 ft/min.)
Bar Codes Multiple linear and 2D bar codes available including DataMatrix
Single Printhead Print Height 12.7 mm (0.5 in.)
Maximum Number of Printheads 2
User Interface CLARiTYTM 8.4 inch color SVGA LCD touch-panel
Data Interfaces RS232, Ethernet, USB memory, select ZPL, command emulation, text communication
• Standard # Optional - Not Available

(1) Maximum print speed is dependent on selected print resolution

(2) Print quality is a function of speed and selected print resolution

Uptime Advantage

New print array with each cartridge change, ensuring peak performance
No wear parts or maintenance consumables; no calibration procedures
Designed and tested for 99.9% Availability*
Rugged, industrial design made to withstand challenging production environments
Built in Productivity

Cartridge Readiness System™ prevents ink from drying in the nozzles during production interruptions, providing clean, repeatable codes with virtually no operator intervention
Controller drives up to two 12.7mm (1/2 inch) tall cartridges to enable printing in two locations or to allow more content
Code Assurance

Advanced software virtually eliminates set-up errors
Range of customer-selectable rules and permissions that simplify message selection and help prevent operator error
Simple Usability

Innovative combination of thermal ink jet simplicity with industrial-grade ink performance for a range of substrates
Quick and easy cartridge change in 15 seconds or less
Minimal maintenance procedures - none technically demanding
Icon-based controller with easy menu navigation that simplifies operator interaction
* Results based on testing using the reliability growth curve method for in excess of 70,000 cumulative hours and 75 million prints. Individual results may vary.
Related Products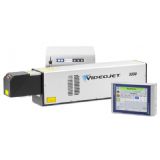 Videojet® 3330 CO2 Laser Marking System
Videojet Technologies, Inc.
The 3330 30-Watt laser offers a powerful combination of performance and flexibility delivering high quality marks on moderate to high speed lines. Designed ...

Technomark Scratching
Technomark
MULTI4 is available in Scratching versions. This technology, using compressed air, is ideal in situations where marking impact noise is an issue (<72dba) ...

The Domino C-Series Coding solutions for outer cases, trays and sacks
Domino Printing Sciences plc
The C-Series range of outer case coders, software and ancillaries provide sustainable solutions to meet the needs of manufacturers. Delivering increased ...

The A320i ink jet printer
Domino Printing Sciences plc
Breaking the service routine From the moment you press the start button, the A320i begins to make your life easier. With the deployment of intelligent ...

Single and Multi-Mode Fiber Laser Markers - 10 to 50W
Miyachi Unitek Corporation
Miyachi Unitek''s LMF Series fiber laser markers are rugged, cutting-edge machines designed to address a wide range of laser marking applications. This ...