TIGO SF CMM
TIGO SF - An innovation "Touch" on the shop-floor

TIGO SF is a versatile, air-free high performance Coordinate Measuring Machine for the shop-floor. Its solid and robust structure ensures extremely accurate measurements, while the innovative operating concept simplifies the dimensional inspection of industrial workpieces and opens up the world of metrology to everyone.
Designed to operate in harsh environments, TIGO SF is fully protected with covers and bellows, and it is the ideal blend of robustness, innovation and flexibility.

Thanks to its cantilever structure TIGO SF is fully accessible from three sides, and offers optimal accessibility for part loading/unloading and part-programming. The thick granite work-table with its dense grid of holes makes part fixturing easy and quick.

TIGO SF is an accurate and compact 3D-coordinate measuring machine (CMM) specifically designed for use on the shop floor. TIGO SF is the ideal measurement solution for a wide range of accurate, small and medium size parts from all industrial sectors. With a measuring volume of 500 x 580 x 500mm (X/Y/Z), the machine boasts a volumetric accuracy making it the most precise shop floor CMM in its category.
TIGO SF is the all-in-one measuring solution for production areas: in the standard configuration both the controller and the PC are housed inside the machine stand, and monitor and keyboard located on a swiveling arm to ensure maximum ergonomics and minimum floor occupation. This stand-alone compact configuration can be easily relocated by means of a simple forklift to suit any production changing needs.

In its standard configuration TIGO SF comes equipped with the LSP-X1c fixed probe head to support high-speed high-accuracy continuous scanning and point-to-point measurements. Alternatively, it can be equipped with the indexable TESASTAR-m probe head to allow the measurement of features anyhow oriented, without using complex star styli configurations or rotary tables.
Enhanced structural thermal compensation allows precise measurements in a temperature range from 15 to 30 ºC. The machine is fully equipped with covers and bellows to prevent contamination of the moving parts; the machine stand that houses the electronic equipment is also available in an IP54-certified version. Passive dampers protect the machine from most common vibrations on the shop floor. For extra protection, active dampers are available.

TIGO SF offers a new way to interact with shop floor measurement devices. The core of the operating concept is the PC-DMIS TOUCH software, designed for touchscreens and latest generation operating systems. The graphical user interface shows easy-to-understand graphical elements and commands providing the base for an intuitive measurement process. For more demanding applications the conventional PC-DMIS and QUINDOS measuring software are also available.

Measuring volume: 500 x 580 x 500 mm.
Best performance in its product class.
Best measuring volume / footprint ratio.
Linear guide-ways on all axes, no air required.
Granite worktable, with a dense grid of holes for easy part fixturing.
Machine structure protected from dust and airborne particles with bellows and covers.
Multi-sensor temperature compensation technology.
Continuous scanning and point-to-point measurement with LSP-X1c scanning head.
LSP-X1c tool changer integrated in the CMM frame.
TESASTAR-m 5º index head with TESASTAR-mp probe available for maximum application versatility.
New, robust and ergonomic Jog-box
Touch screen and keyboard handy located on an integrated swiveling-arm.
Multi-color LED lights visualize the status of the measurement process (option).
IP54 machine stand available (option).
Passive dampers (active dampers available as option).
Related Products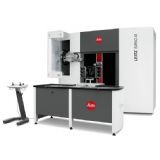 Leitz SIRIO Xi
Hexagon Metrology Services Ltd.
Optimum Process Control in Series Production Leitz SIRIO coordinate measuring machines have a long tradition of high-end technology in production metrology. ...

Outside Micrometer - Submicrometer MDH
Mitutoyo Corporation
The digital outside micrometer "Submicrometer MDH" works with an enormous precision of 0.6 µm (MPEJ according ISO 3611, 2010) - compared to 2 µm ...

Three-Point Internal Micrometers - Borematic
Mitutoyo Corporation
The new generation of digital three-point internal micrometers "Borematic" by Mitutoyo enables particularly quick measurements with two preset values. ...

surface plate stand
Shanghai Chenghua Machinery Co., Ltd.
Products: Surface Plate Support Specification: 600x450mm-4000x8000mm Our surface plate supports are available with 3 main support points, with 4 extra ...

granite straight edges
Shanghai Chenghua Machinery Co., Ltd.
The main mineral components of granite include pyroxene, plagioclase, a little olivine, biotie and trace magnetite. It is precise in structure with black ...