ROMER Absolute Arm - 6 Axis
The new ROMER Absolute Arm is absolutely advanced. Drawing inspiration and resources from the entire Hexagon Metrology product family, and all ROMER arms that came before, the ROMER Absolute Arm has been redesigned to ensure the ultimate user experience. A new ergonomic wrist is the first to be designed around the complex contours of the human hand. Sensory feedback enables users to take measurements in even the most challenging shop environments.

The ROMER Absolute Arm is still the easiest and fastest to use in the industry. Intelligent Quick Change Probes require no special tools or recalibration after probe changes. Absolute encoders "know" where the arm is at all times, eliminating the need for complex homing procedures. A thermally stable dual carbon fiber tube construction does not lock up when temperatures change.

The Absolute Arm is an absolute return on investment.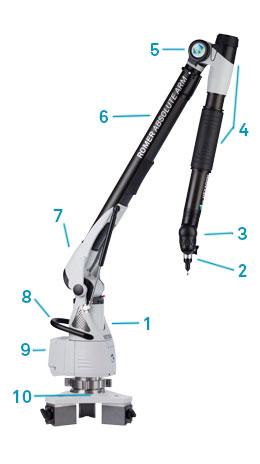 Patented Infinite Rotation in the principle axes allows access to difficult to reach areas, while avoiding damaging the arm against rotational hard stops.
Kinematic Probe Joint, the same type used in Hexagon Metrology bridge CMMs, provides repeatable connection of probes, with no need for recalibration. Automatic probe recognition allows you to store hundreds of calibrated probe profiles for instant recall.
The ergonomically designed wrist was modeled after the complex contours of the human hand. Buttons on the wrist are used to inspect parts or to interact with the software when in "mouse mode".An integrated work light and digital camera graphically document setups.
Patented SpinGrips are infinitely rotating, low-friction "approved" hand hold positions for better user ergonomics. SpinGrips allow the arm to "float" in the operator''s hands, reducing stress on the arm thus maximizing accuracy and repeatability while minimizing user fatigue.
Absolute Encoders improve overall accuracy and eliminate all complicated "homing" procedures.
Aerospace grade Carbon Fiber Tubes provide a lightweight, stiff structure that is thermally stable.
Low Profile Zero-G Counterbalance balances the arm''s weight for easy, operation with effortless control, even above and below the arm''s centerline. Better ergonomics means lower operator fatigue and better measuring results.
Integrated handle and lifting point under counterbalance allow for easy carrying.
Feature Packs plug into the base and provide interchangeable and upgradeable add-on capabilities such as WiFi connection, battery power, and more.
Universal thread mount base attaches to a variety of available base and stand options including magnetic bases.
Feature Pack Options for 6-Axis Absolute Arms:

Mobility Pack: A rechargeable battery and WiFi transmitter allows completely wireless use of the Absolute Arm.
"No Pack" Option: The Absolute Arm is completely functional without a feature pack, using a 110/220v power connection.
Related Products

3D coordinate measuring machine RSplus
WENZEL Präzision GmbH
Open access from all sides with the horizontal-arm CMM The RSplus is a CNC horizontal arm CMM and can be supplied with touch trigger, scanning or optical ...

3D coordinate measuring machine LHF
WENZEL Präzision GmbH
Bridge-type CMM for precise measurements of large workpieces When it is all about the accurate measurement of large gears or other high precision parts ...

3D coordinate measuring machine LH Gantry
WENZEL Präzision GmbH
LH Gantry for measurements of large workpieces The LH Gantry is a CNC coordinate measuring machine in gantry design with touch-trigger or scanning ...

3D coordinate measuring machine XOrbit
WENZEL Präzision GmbH
Bridge-type CMM for mediumsized workpieces at an affordable price The WENZEL XOrbit is the ideal coordinate measuring machine, wherever the core aspects ...

3D coordinate measuring machine LH
WENZEL Präzision GmbH
Medium bridge-type CMMs for highest dynamics and precision Precise, dynamic and reliable. The LH is a universal and flexible instrument for different ...