Retrofitting concrete mixing plants
We have many years of in-depth experience retrofitting concrete mixing plants. Mixing plant technology can be modernized at a reasonable cost. In addition to modernization, the output of the plant can also be significantly improved. The competitiveness of a plant can be dramatically increased by installing a more powerful mixer, modifying the weighing and metering equipment and replacing the control system.

Thanks to the compact design of the various BHS mixer models, a good solution is always possible, even when space is at a premium. For example, a pan mixer can usually be easily replaced with a much more efficient BHS DKX twin-shaft batch mixer.

We not only plan and manufacture the full scope of supply designed to meet your special needs, we also offer on-site assembly services, including commissioning by our proven and experienced team of experts.

We will gladly make you an offer. You can usually trade in your BHS twin-shaft batch mixer, even if it is already 25 years of age or older.
Related Products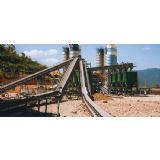 Continuous concrete mixing plants
BHS-Sonthofen GmbH
High yields of bulk concrete Continuous concrete mixing plants are suitable for construction sites where high yields of bulk concrete (such as RCC) ...

the granule anti-vibration mat
greensound acoustics material company
Recycled Tires is the major material resource of Green Acoustic Under layers. After the initial process Of eliminating feculences, the tires are crushed ...

angle bead
Anping Anao Mesh And Metal Products Co.,Ltd.
Angle Bead (Galvanized angle bead / Stainless angle bead) the usage of steel plaster profile makes it easy to build the edges smooth,and the edges with ...

brick mesh
Anping Anao Mesh And Metal Products Co.,Ltd.
Coil Mesh is available in a variety of widths to suit most wall constructions and is supplied coiled for ease of handling. Additional applications include ...

Chemically Cross-Linked Polyethylene Foam
greensound acoustics material company
It is made of Chemically Cross-Linked Polyethylene Foam; it has good vibration resistance and sound insulation properties. This is a cost-effective impact ...