Continuous concrete mixing plants
High yields of bulk concrete

Continuous concrete mixing plants are suitable for construction sites where high yields of bulk concrete (such as RCC) are required. These plants allow for high hourly output rates and are usually more cost-effective than comparable batch plants.

BHS offers complete continuous mixing plants of different sizes (type MPL) based on our twin-shaft continuous mixer (type LFK). The mixing and weighing platforms are designed so they can be transported in ISO containers to their final destination at low freight cost. The metering system and the control technology enable extremely accurate continuous weighing of the formula ingredients. BHS plants have proven reliable all over the world, especially on hydro dam construction sites.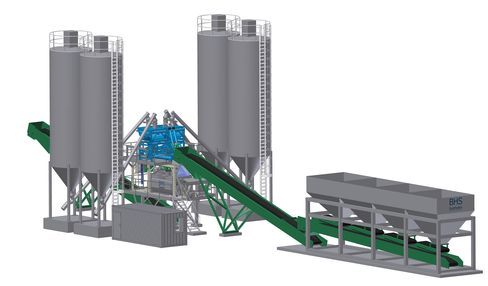 BHS provides and develops customized continuous mixing plants specially designed for lean concrete and roller-compacted concrete (RCC).
Related Products

the granule anti-vibration mat
greensound acoustics material company
Recycled Tires is the major material resource of Green Acoustic Under layers. After the initial process Of eliminating feculences, the tires are crushed ...

angle bead
Anping Anao Mesh And Metal Products Co.,Ltd.
Angle Bead (Galvanized angle bead / Stainless angle bead) the usage of steel plaster profile makes it easy to build the edges smooth,and the edges with ...

brick mesh
Anping Anao Mesh And Metal Products Co.,Ltd.
Coil Mesh is available in a variety of widths to suit most wall constructions and is supplied coiled for ease of handling. Additional applications include ...

Chemically Cross-Linked Polyethylene Foam
greensound acoustics material company
It is made of Chemically Cross-Linked Polyethylene Foam; it has good vibration resistance and sound insulation properties. This is a cost-effective impact ...

Polyester fiber art sound-absorbing panels
greensound acoustics material company
Fabric Panels are compressed Polyester fiber acoustic panels custom cut to the size. Nearly 36 kind color are available for choosing. The edges of these ...