EUROCHAIN VR electric chain hoists
EUROCHAIN VR :

The new generation of VERLINDE electric chain hoists for loads from 63 to 5.000 kg

With its completely new design, EUROCHAIN VR is VERLINDE''s new range of electric chain hoists. Thanks to its new, fully ergonomic design, EUROCHAIN VR offers a wide range of innovations that guarantee the highest levels of safety, productivity and ease of maintenance.
The EUROCHAIN VR is designed to provide users with the maximum level of safety. In its standard version, it features a new lifting load wheel concept with intermediate teeth to drive the chain, a button unit punch-type On/Off switch, a torque limiter, a disk lifting brake, a very low voltage command (48V), direction speed version variation, a safety electric limit switches for up and down position and complies with the CE machine directive.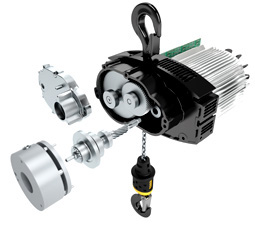 EUROCHAIN VR increases productivity. All models offer a wide range of speeds, 25% quicker than the previous generation. The lifting motor is also dual speed as standard for smoother operation. EUROCHAIN VR can lift up to 2.5 tonnes on 1 wire in FEM 2m, providing the possibility of working at higher lifting heights while reducing the chain bag dimensions and so making the lifting unit more compact.
Lubricated for life to reduce maintenance, the reducer is designed for extremely long operating periods of up to 3200 hours. The high precision machining on the gear trains also guarantee operation with a very low level of noise annoyance. The clutch is very easy to access for occasional maintenance operations and its position in the reducer holds the load via the brake regardless of the machine''s operating conditions.
A new patented concept, the 5-slot lifting load wheel has 5 intermediate teeth for perfect control over the lifting chain, enabling better guidance for the chain and avoids any risk of jamming. The lifting hook''s maximum up and down positions are secured by the electric limit switches located under the chain guidance system. The switches are activated alternately by the lifting hook''s upper cone or the slack chain stop.
Related Products

Radio remote control grab
shanghai guanbo machinery equipment co.,ltd
1, It is a merging of the radio remote control technology into the single rope grab for handling of bulk materials. 2, It is particularly designed for ...

Electro-Hydraulic Clamshell Grab
shanghai guanbo machinery equipment co.,ltd
It is mainly designed for handling of powder and fine bulk materials such as chemicals, fertilizer, grain, coal, coke, iron ore, sand, particle construction ...

Two rope clamshell grab
shanghai guanbo machinery equipment co.,ltd
It is generally designed for handling of powder and fine bulk materials. The grab overall structure is light and durable, offering high grabbing ratio, ...

Semi-automatic container spreader
shanghai guanbo machinery equipment co.,ltd
Semi-automatic spreaders are fixed to the hooks of gantry, bridge and portal cranes. Twist lock control is carried out mechanically by means of wire rope ...

Underwater Dredging Grab
China Fabe Heavy Industry Limited
Underwater dredging grab is a kind of efficient tool for loading and dredging silt, scree, sand, which is suitable to the crane with two drums or four ...