Altanium Matrix temperature controller
Our Altanium Matrix™ controller provides accurate temperature control in a flexible, modular design. Altanium Matrix is ideal for medical and other applications where part quality is critical. Altanium''s Active Reasoning Technology (ART) optimizes thermal performance for each heater, which provides superior temperature control in each zone.
Altanium Matrix features:
Plastic leak detection
Advanced Mold Diagnostics and troubleshooting
Data recording
Unlimited mold set-up storage
Storage for images, documents and notes
Advanced security
A variety of enclosures are available for the Altanium Matrix controller.
Mold mount
Our mold mount enclosure allows the controller to be directly mounted to the mold, reducing the cost of cables and required floor space. Mold mount is patented technology that can be used on low and high cavitation hot runners and is controlled using a remotely mounted operator interface.
External machine mount
The external mold mount is attached to the exterior of the injection molding machine. This mount increases flexibility and floor space savings and is compatible with all Altanium controllers.
Free standing
Our free standing enclosures are compact and compatible with controllers up to 254 zones. These wheeled, mobile stands can be easily moved for molding environments that need the flexibility of free moving equipment.
Technical Specifications
Operating Ambient Temperature:
32º to 104ºF (0º to 40ºC)
Storage Temperature:
-4º to 140ºF (-20º to 60ºC)
Humidity:
0 to 95% RH, non-condensing
Input Power:
1-Ph + E (3 wire) 200-240 VAC
3-Ph + E (4 wire) 200-240 VAC
3-Ph + N + E (5 wire) 380-415 VAC
Other voltages require an input supply transformer (Supply requirements for functional integrity 190 to 240 VAC)
Frequency Range:
50/60 Hz, +/- 5%
Measurement Accuracy:
±1.0ºF (0.5ºC) for the range 32ºF to 932ºF (0ºC to 500ºC)
Calibration:
Standard (using a NIST traceable thermocouple source)
Cold Junction Error:
±1.0ºF (0.5ºC) @ 77ºF (25ºC) typically
Temperature Stability:
±0.1ºF (0.05ºC) / ºF (ºC) from ambient
Control Stability:
±1 digit - under steady state conditions
Tuning Method:
Active Reasoning Technology (ART) or Manual PID control
Thermocouple Inputs:
Grounded or Ungrounded Type J standard (Type K optional)
- Sensor break and reverse detection
- Upscale failure mode
- High impedance input with zone to zone isolation
Heater Outputs:
- All zones rated at 240 VAC (Other Voltages Optional)
- 16 Amps per zone standard (20 or 30 Amps Optional)
- Short circuit protection for each zone (both legs fused)
Alarms:
Open Circuit Heater; Open Circuit Fuse(s); High and Low Temperature; Open, Shorted or Reversed Thermocouple(s) Ground Fault
Related Products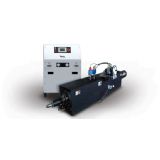 MuCell® Molding Technology
Trexel, Inc.
The most significant plastic processing innovation in the last 20 years The MuCell® microcellular foam injection molding process for thermoplastics ...

IML
StackTeck Inc.
Injection molded in mold labeled products have expanded rapidly to new market applications with 1-, 3- and 5-sided and wrap-around applications for event ...

Stack Molds
StackTeck Inc.
Stack molds are a series of molding faces "stacked" together to create multiple faces or levels for molding. Each level or face is a parting ...

Bump-off Molds
StackTeck Inc.
Bump-off mold technology produces plastic caps and lids, or any plastic part, with internal undercuts requiring the need of a mechanical push to eject ...

plastic injection mould
Shenzhen Yinuo Plastic Injection Mould Co.,Limited
Shenzhen YiNuo Plastic Injection Mould Limited was established in March 2008, is a professional company for designing & manufacturing of plastic injection ...