Rigid impeller feeder
Model: Varied
Product description:
GY Rigid impeller feeder for the top material silos in the dry powder or small particles of materials continuously, evenly feed sent to the next device. The feeder is widely used in cement, building materials, chemicals, metallurgy and light industry sectors such as material handling system for feeding equipment. GY Rigid impeller feeder is quantitative feeding equipment. The machine is equipped with BLY series cyclonical reducer; it is through the reducer output shaft connected directly with the rigid shaft to drive shaft and impeller. Equipped with a number of impeller vanes, which is equipped with rubber sealing disks, compressed plate, sealing film close to shell wall. When the motor rotates the spindle, the impeller rotating at the same time, the material from the upper hopper into the impeller through the discharge port when the tank, rotating impeller to feed material into the discharge port to send out.
Working principle:

When the speed when loaded by the worm to pay through the scraper on the same axis, the supply impeller and the impeller to achieve a powder measure. Since the pulverized coal into the hopper to the powder machine partitions on top of the body and the gaps in the supply of the following alveolar impeller, the impeller rotating impeller with the supply of coal in a 180 degree turn inside the containment shell notch to the impeller, down to the measurement of alveolar impeller, the impeller sub-180 degrees measured again with the Department of coal gap in the body pieces, pulverized into a powder that tube, this procedure has reached a continuous, even to the coal powder to prevent the shutdown The purpose of gravity.
Related Products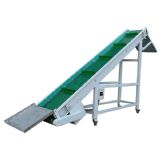 Climbing belt conveyor
Xinxiang Mingyang Sieving Machinery Co., LTD
Product description: Belt Conveyor use belt via continuous or intermittent motion to transport all kinds of different articles, can transport all kinds ...

Stone vibrating feeder
Xinxiang Weimeng Metallurgical Equipment Co., Ltd.
Detailed Product Description 1. Smooth vibrating 2. Adjustable fences distance 3. Evenly feeding Introduction Vibrating Feeder is designed ...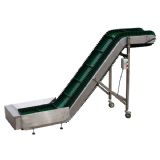 Large angle belt conveyor
Xinxiang Mingyang Sieving Machinery Co., LTD
Product description: Large angle belt conveyor is a kind of transportation equipment that has big throughput, low operating cost, widespread applications. ...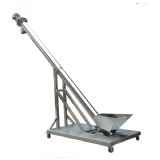 Stainless steel screw conveyor
Xinxiang Mingyang Sieving Machinery Co., LTD
Product description: The screw conveyor can be divided into level, inclined and combined types according to configuration style. It can finish concentrated ...

Cone Crusher / Hydraulic Cone Crusher
Zhengzhou Yifan Machinery Co., Ltd.
SMH Series Hydraulic Cone Crusher 1.Used for secondary and fine crush of all kinds of rocks. 2.High efficiency productivity and capacity. 3.Hydraulic ...