Stainless steel screw conveyor
Model: Varied
Product description:
The screw conveyor can be divided into level, inclined and combined types according to configuration style. It can finish concentrated transportation, respectively conveying, mixing materials, mixture, dewatering, customized batching, discharging and stacking, being used with other conveying device together.
Features:
1.Ideal for conveying powders, granules and blends
2.High speed rate and compact overall dimensions
3.Large carrying capacity, safe and reliable operation
4.Inlets and outlets can be configured as required
5.Wide range of construction materials-carbon steel, stainless steel and abrasion-resistant alloys.
Related Products

Stone vibrating feeder
Xinxiang Weimeng Metallurgical Equipment Co., Ltd.
Detailed Product Description 1. Smooth vibrating 2. Adjustable fences distance 3. Evenly feeding Introduction Vibrating Feeder is designed ...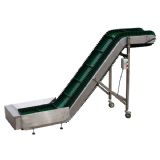 Large angle belt conveyor
Xinxiang Mingyang Sieving Machinery Co., LTD
Product description: Large angle belt conveyor is a kind of transportation equipment that has big throughput, low operating cost, widespread applications. ...

Cone Crusher / Hydraulic Cone Crusher
Zhengzhou Yifan Machinery Co., Ltd.
SMH Series Hydraulic Cone Crusher 1.Used for secondary and fine crush of all kinds of rocks. 2.High efficiency productivity and capacity. 3.Hydraulic ...

Crusher / Jaw Crusher
Zhengzhou Yifan Machinery Co., Ltd.
JC Jaw Crusher 1. Big crushing ratio 2. Even granularity 3. Simple structure 4. CE & ISO. jaw crusher, stone crusher, crusher JC series Jaw ...

Spring Cone Crusher / Cone Crusher
Zhengzhou Yifan Machinery Co., Ltd.
SDY Series Spring Cone Crusher 1. Reasonable structure, easy operation 2. Reliable spring insurance system 3. High efficiency, low cost 4. CE & ISO. ...