Stack Molds
Stack molds are a series of molding faces "stacked" together to create multiple faces or levels for molding.

Each level or face is a parting line and produces molded product.

The benefit of stack molding is to increase the output of a given molding machine and operation.

Special machine considerations are required to run stack molds, however StackTeck's technical team are well versed in providing guidelines and recommendations to ensure success when adopting a stack mold strategy.

StackTeck provides stack molds in 2, 3 and 4 level configurations based on part designs and volume requirements. Molds can also be converted from 2 to 3 to 4 levels as volumes increase.

In many cases, parts with a large projected area can be converted or built in a stack mold configuration, doubling the output of a given machine.

Benefits:

Integrated mold ejection functions
Double, triple or quadruple output
Higher output/ capital and floor space
Modular design expandable with volume growth
Applications:

Dairy food containers
Lids and over caps
Take out food containers
Thin wall articles
Cosmetic containers
Beverage closures
Medical
Horticultural
Food Service
Related Products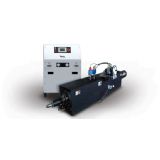 MuCell® Molding Technology
Trexel, Inc.
The most significant plastic processing innovation in the last 20 years The MuCell® microcellular foam injection molding process for thermoplastics ...

Bump-off Molds
StackTeck Inc.
Bump-off mold technology produces plastic caps and lids, or any plastic part, with internal undercuts requiring the need of a mechanical push to eject ...

plastic injection mould
Shenzhen Yinuo Plastic Injection Mould Co.,Limited
Shenzhen YiNuo Plastic Injection Mould Limited was established in March 2008, is a professional company for designing & manufacturing of plastic injection ...
Machine Nozzles: Mixing & Filter Nozzles
Synventive Molding Solutions
Improve Melt Quality…Reduce Downtime! Heat pipe technology is your assurance that every Synventive Machine Nozzle will automatically operate at ...
06E Plug ''n Play™ Hot Runner System
Synventive Molding Solutions
Synventive Molding Solutions has introduced two additions to its hot runner product line; the new model 06E threaded/screw fit hot runner nozzle and the ...