Bump-off Molds
Bump-off mold technology produces plastic caps and lids, or any plastic part, with internal undercuts requiring the need of a mechanical push to eject the part from the core. Bump-off mold designs concentrate on achieving the best cooling possible through the use of multiple inserts, and specialized materials.

Benefits:

Low maintenance
Enhanced cooling on all inserts and air assist ejection ensure fastest possible cycle times.
Can be single face or multilevel stack molds
Can be combined with multi-material and QPC technologies
Applications:

Caps & Closures
Industrial Packaging
Personal Care /Cosmetics
House wares
Food Packaging
Consumer Goods
Related Products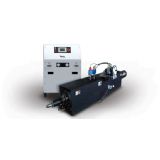 MuCell® Molding Technology
Trexel, Inc.
The most significant plastic processing innovation in the last 20 years The MuCell® microcellular foam injection molding process for thermoplastics ...

plastic injection mould
Shenzhen Yinuo Plastic Injection Mould Co.,Limited
Shenzhen YiNuo Plastic Injection Mould Limited was established in March 2008, is a professional company for designing & manufacturing of plastic injection ...
Machine Nozzles: Mixing & Filter Nozzles
Synventive Molding Solutions
Improve Melt Quality…Reduce Downtime! Heat pipe technology is your assurance that every Synventive Machine Nozzle will automatically operate at ...
06E Plug ''n Play™ Hot Runner System
Synventive Molding Solutions
Synventive Molding Solutions has introduced two additions to its hot runner product line; the new model 06E threaded/screw fit hot runner nozzle and the ...

G24 hot runner temperature controller
Synventive Molding Solutions
The G24 is Synventive's next generation control system that combines the best attributes of the existing LEC and TTC hot runner temperature controls (such ...