YXLON UX20
It is time for a new inspection experience
The YXLON UX20 system for x-ray and CT inspections of medium to large cast parts makes your inspection tasks as easy as never before. Its exceptional inspection envelope allows for 2D and 3D results in record time.

Easy operation with Yxlon''s award winning user interface Geminy
Fast results with large inspection envelope in 2D and 3D
Modern industrial design with a compact footprint
System Capabilities
We designed the UX20 system from the ground up for fast and easy x-ray inspection of your parts. The award-winning user interface Geminy enables an easy inspection, both for your 2D and 3D inspection needs. Our efficient workflows with automation, wizards and presets guide the user.

Different user roles help to streamline your tasks: the expert can tweak all parameters and set up presets while less experienced users can simply execute predefined tasks. That way, you can be sure that the system is ready for your inspection needs at any time.

One glance at the health monitor is enough to grasp the system''s condition and performance. In case anything is abnormal, the solution is usually just a click away.

With the heritage of CT inspection systems like the YXLON FF35 CT, you can count on a strong suite of computed tomography features. With ScanExtend, the wizards guide you to set up various scan-field extensions so that you can scan even the largest parts in the system.

The optimized image chain with x-ray tube, detector and image processing software provide benchmark image quality, the basis for best inspection results.

Easy inspection is the sum of many components. The operator desk, for example, has only the items that you really need. Moreover, it''s adjustable in height for ergonomic standing or sitting positions according to the user''s individual needs.

Due to its small footprint and low height, you can even place the system in narrow corners. With access from two sides, maintenance is hassle-free. Even the cooler and generator are safely placed internally to improve uptime.
Related Products

HCVMe - Medium energy X-ray mobile screening system
Smiths Detection Inc
The HCVM e series is a powerful compact fully integrated light mobile platform ideal for inspecting whole trucks, containers and vehicles for threats ...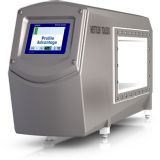 R Series Profile Advantage Metal Detectors
Mettler-Toledo, Inc.
For challenging inspection applications where a product is wet, hot, chilled or cooling Profile Advantage technology provides the ultimate in metal contaminant ...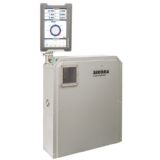 X-RAY 6000 / X-RAY 6000 PRO
Sikora AG
Measurement of the wall thickness, eccentricity, diameter and ovality of single and multi layer products For quality control of cables in jacketing ...

C-Scan GHF metal detector
Sesotec GmbH
S+S Inspection Inc continues to expand its capability of the C-Scan GHF metal detector with multi-frequency frequency technology and unique symmetrical ...

HI-SCAN 145180-2is X-ray inspection systems
Smiths Detection Inc
The HI-SCAN 145180-2is has been specially designed to meet the needs and applications of warehouses, carriers, forwarders and couriers for airports (palletized ...