Machine Nozzles: Mixing & Filter Nozzles
Improve Melt Quality…Reduce Downtime!

Heat pipe technology is your assurance that every Synventive Machine Nozzle will automatically operate at the optimum processing temperature; never too hot, never too cold. Synventive Heat Pipe technology transfers heat at uniform temperature from machine barrel to nozzle tip, eliminating "hot spots" which cause process variables.

Many Synventive Injection Molding Machine Nozzles are completely heaterless. Others require a single band heater, which is placed in a safe location at the back of the nozzle (machine end). The absence of multiple heaters and associated electrical hardware, eliminates downtime due to failure of this equipment.
Synventive Nozzles are available in lengths and thread sizes to fit all popular injection molding machines. Including BIG Nozzles for use on very large machines with high injection volume.
Ideal for PVC: The inherent temperature uniformity of all Synventive machine nozzles makes our brand the ideal choice for processing PVC. Nozzles for PVC applications are offered in corrosion-resistant stainless steel and include nylon-style tips, which make this sensitive material easier to process.
Color Change: The uniform temperature of all Synventive machine nozzles facilitates excellent color change.
Mixing Nozzles - for improved color dispersion and reduced color loading.
Filter Nozzles - for filtering of all plastic melts.
Replaceable tips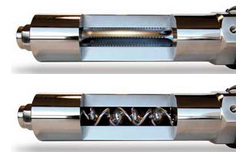 Related Products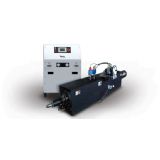 MuCell® Molding Technology
Trexel, Inc.
The most significant plastic processing innovation in the last 20 years The MuCell® microcellular foam injection molding process for thermoplastics ...
06E Plug ''n Play™ Hot Runner System
Synventive Molding Solutions
Synventive Molding Solutions has introduced two additions to its hot runner product line; the new model 06E threaded/screw fit hot runner nozzle and the ...

G24 hot runner temperature controller
Synventive Molding Solutions
The G24 is Synventive's next generation control system that combines the best attributes of the existing LEC and TTC hot runner temperature controls (such ...

Multi Tip - DMT5
INCOE Corporation USA
Multi Tip - DMT5 <110g Multi Gate Nozzle Technology INCOE®''s Multi tip nozzles offer 2 - 6 tips located on each nozzle. The design is ideal ...

DF25 SoftGate® Hydraulic
INCOE Corporation USA
DF25 SoftGate® Hydraulic Valve Gate DFQ and DFX style nozzle SoftGate® systems featuring our DF Hydraulic Valve Gate nozzles are designed ...