06E Plug ''n Play™ Hot Runner System
Synventive Molding Solutions has introduced two additions to its hot runner product line; the new model 06E threaded/screw fit hot runner nozzle and the PNC3008 pneumatic bolt-on actuator for valve gate hot runner systems.
Ideal for small part applications and suitable for use with virtually all materials, the model 06E threaded hot runner nozzle features a large internal flow bore (6mm) and a small external diameter. This allows for a pitch of only 20mm between nozzles, or 42mm between PNC3008 valve gate actuators. It is designed for shot weights up to 100g per nozzle and available in lengths ranging from 60 - 200mm.


Since these nozzles are threaded directly into the hot runner manifold, a leak-proof system is provided without critical stack up dimensions that must be maintained; also, because of the threaded design, these systems have no material hang-up areas and feature excellent temperature uniformity.
Designed for long life and easy maintenance, 06E nozzles are provided with easily replaceable external heaters and have integrated, replaceable thermocouples.
When Synventive 06E nozzles are used as a valve gate system and combined with the Synventive PNC3008 bolt-on actuator, the complete hot runner system is supplied pre-wired and pre-assembled without the need for hoses, since lines are drilled in top clamp plate allowing for simple 'Plug 'n Play''™ mold installation. Other pneumatic and hydraulic actuators are also available for simple 'Plug 'n Play''™ installation. Electric actuators ''eGate''™ are in beta. Contact Synventive for more details.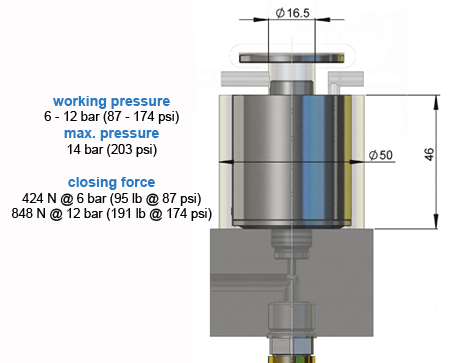 Some of the advantages include:
"Plug 'n Play"™ capability when combined with a bolt on actuator
Threaded, leak-proof, without critical stack up dimensions
Small nozzle cut-out (20mm) with large internal bore (6mm)
Suitable for virtually all materials
Excellent temperature uniformity
Optimal valve pin pre-centering
Replaceable external heaters that have integrated, replaceable thermocouples
Ease of service, valve pin can be removed or adjusted without removing the top clamp plate if the optional cover plate is used.
The top clamp plate can be removed without removing the valve pins from the hot runner.
Energy savings
Related Products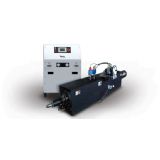 MuCell® Molding Technology
Trexel, Inc.
The most significant plastic processing innovation in the last 20 years The MuCell® microcellular foam injection molding process for thermoplastics ...

G24 hot runner temperature controller
Synventive Molding Solutions
The G24 is Synventive's next generation control system that combines the best attributes of the existing LEC and TTC hot runner temperature controls (such ...

Multi Tip - DMT5
INCOE Corporation USA
Multi Tip - DMT5 <110g Multi Gate Nozzle Technology INCOE®''s Multi tip nozzles offer 2 - 6 tips located on each nozzle. The design is ideal ...

DF25 SoftGate® Hydraulic
INCOE Corporation USA
DF25 SoftGate® Hydraulic Valve Gate DFQ and DFX style nozzle SoftGate® systems featuring our DF Hydraulic Valve Gate nozzles are designed ...

QF 8 Valve Gate
INCOE Corporation USA
QF Pneumatic QF Valve Gate systems, designed with robust and compact cylinders, offer superior performance and gate quality with pneumatic actuation ...